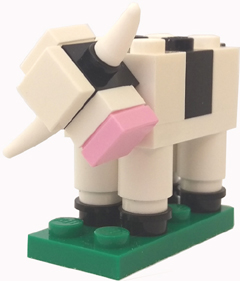 For the 2015 Eastern States Exposition in Massachusetts, LEGO offered visitors the chance to make-and-take a cow model, complete with rotating head and swinging tail. This is an official LEGO model, similar to the Americana Roadshow miniature buildings, but unless you attended the event in person, you may not have heard about it.
I think it's a fine cow, and quite easy to build from parts you may already have at hand, so with a bit of help from LEGO Digital Designer and Photoshop, I have created some reproduction instructions to help you build your own version. Using the basic design, this can easily be customized to any color, or any animal you like.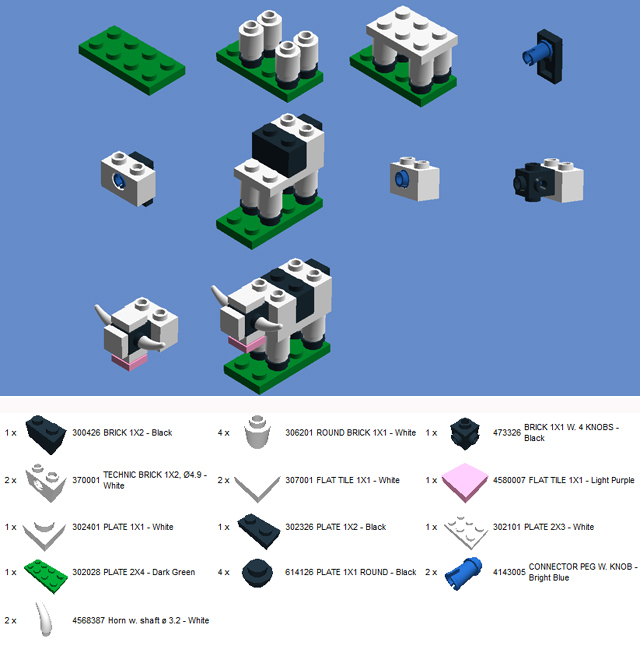 LEGO has been a part of the Eastern States Exposition, locally known as The Big E, for many years. Its Enfield, Connecticut office hosts a sizable booth inside the Connecticut Capitol Building pavilion on the Big E's Avenue of States. The booth includes some custom LEGO display models, a small LEGO shop and an area where kids can build from an assortment of bricks.
In recent years, LEGO have offered a fair exclusive. In 2013 there was a make-and-take model of the Connecticut Capitol Building, in 2014 there was a T-shirt, and 2015 provided the make-and-take cow. These exclusives offer some extra incentive for LEGO collectors to attend, beyond the many attractions, exhibits and foods of questionable nutritional value (giant crème puffs and fried Oreos) that are standard to American fairs.