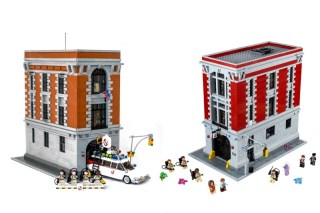 There has been a lot of controversy caused by the upcoming direct-to-consumer 75827 Ghostbusters Firehouse Headquarters since its reveal, mostly regarding its relation to the Ideas project created by fan Sergio, who thought such a set would go well with last year's 21108 Ghostbusters Ecto-1. Both models are shown above.
Thanks to BrickFanatics, I have found out that Sergio contacted The LEGO Group (which he visited back in June) about the situation. This was their response...
"We debated whether to share this news with you early during your visit to Billund in June, however we chose not to do so in accordance with our confidentiality policy. You're correct in noting that we could have employed an NDA, and we sincerely regret not making the extra effort to share the confidential news of the upcoming set.
75827 Firehouse Headquarters was developed independently of any LEGO Ideas submission depicting the firehouse, and is a result of the ongoing relationship we have with SONY Pictures. Our LEGO designers planned and created the set by referencing the Ghostbusters film and through collaboration with the studio.
LEGO Ideas Guidelines state that projects based on current LEGO licenses are likely to be similar to concepts already in our product pipeline. By agreeing to our Guidelines and submitting a project, LEGO Ideas members acknowledge that any overlap or coincidence is unintentional; and that our pre-existing product pipeline supersedes fan-submitted LEGO Ideas projects. See specific guidelines here. We appreciate that your note is based less on this question and more around the fact that we didn't share with you that it was already in development.
As a gesture of our sincere regret for not making the right effort to share this news with you in advance, we would like to send you a gift copy of 75827 Firehouse Headquarters when it releases in January."
You can also read Sergio's thoughts on the situation.