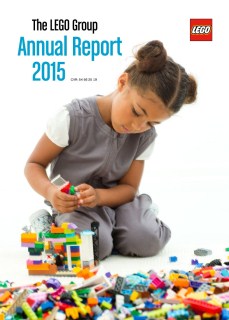 LEGO presented its annual report for 2015 this morning in Billund.
The key figures are:
Revenue growth excluding foreign exchange impacts was 19% year over year on a local currency basis.
Revenue increased by 25% in DKK to DKK 35.8 billion against DKK 28.6 billion in 2014.
The year's operating profit increased to DKK 12.2 billion against DKK 9.7 billion in 2014 – an increase of 26%.
Net profit was DKK 9.2 billion compared to DKK 7.0 billion in 2014 – an increase of 31%.
Injury rate per million work hours was 1.4 compared to 1.7 in 2014.
More than 90% of waste from production sites recycled.
The number of employees in the LEGO Group increased from 14,762 at the end of 2014 to 17,294 at the end of 2015.
You can read the press release at LEGO.com and also download the full annual report as a PDF.
As well as the financial figures a number of interesting facts have also been revealed:
The top 5 bestselling themes in 2015 were:
Duplo
City
Ninjago
Star Wars
Friends
The top five bestselling sets in 2015 were, in order:
Elsa'a Sparkling Ice Castle
Millennium Falcon
City Police Station
Mindstorms EV3
Heartlake Grand Hotel
72 billion bricks were sold in 2015, in over 3600 designs and 60 colours, including:
675 million tyres
725 million minifigures
You can view the entire snazzy presentation here.