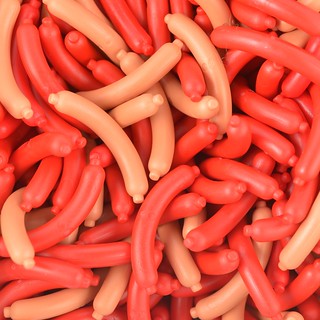 LEGO sausages have been on the menu since 1999. They were first consumed by Scala dolls before being offered to minifigs in 2002.
Dining on sausages has been a messy business: the hot, fatty sticks of meat have had to be held in the minifigs' bare hands and scoffed down without accompaniment. But now, eating bangers has just become a lot easier, and tastier, thanks to the introduction of the hot dog roll!
No longer will our mini friends have greasy hands after devouring a meaty snack...
The new hot dog bun appears in several Angry Birds sets. Its part number is 6147214 and currently it's produced only in tan (LEGO: Brick yellow).
It has an anti-stud on the bottom and a curved slot into which the banger snugly fits.
It can be held in the hand with ease and angled for consumption.
Even the Hot Dog Man appreciates its convenence!
LEGO sausages have been produced in flesh, red and black. The flesh ones were, perhaps unsurprisingly, short-lived and were phased out before minifigs started devouring them. A pair of black ones were used in an Atlantis submarine, 7984 Deep Sea Raider, as part of the protective cage in front of the canopy.
For more interesting tidbits about LEGO sausages take a look at the topic Sausage Facts in the forum and to find out which sets contain them, see BrickLink.
Stay tuned for our reviews of the Angry Birds sets in the coming weeks.