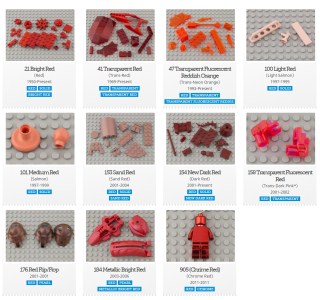 A couple of weeks ago Ryan Howerter posted a message in the forum to say that he had produced colour-balanced photographs of parts in nearly every LEGO colour produced along with a summary of known information about them.
Shortly afterwards, I approached Ryan to ask if I could make use of the data and images here at Brickset, to make them more accessible, and he graciously agreed. The result is a new colour browser that's linked to on the green Browse menu above.
The browser allows you to view the images by colour family (reds, blues, greens etc.), by material type (solid, transparent, metallic etc.) and also filter to view just current or retired colours.
The images are also shown on parts detail pages and parts browsing pages.
I hope you find the browser interesting, informative and, thanks to Ryan's excellent photos, attractive.
Please show Ryan your appreciation for his hard work and generosity in the comments and if you have any suggestions for improvement, let us know.
While on the subject of parts, there's another new feature on parts detail pages: A Swooshable tab that displays additional information about parst from Swooshable.com's part reference. Enjoy!