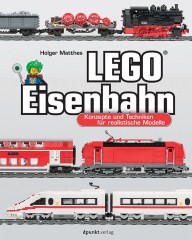 LEGO Eisenbahn – Konzepte und Techniken für realistische Modelle is a new book by Holger Matthes, published by dpunkt.verlag.
Holger is one of the most respected builders of LEGO trains in the world. He was involved in the design of the Hobby Trains set 10183, and he and I participated in Power Functions train workshops in Billund in the late 2000s that resulted in the release of the Emerald Night, so you can be sure that this is a quality book.
I had the pleasure of meeting Holger again at the Fan Weekend in Portugal last weekend and attending his presentation on LEGO trains as well as viewing some of the models featured in the book.
This won't be much of a book review because it's in German but even if, like me, you can't read the language, you may still find it of interest due to the excellent building instructions and images.
It's a 280 page paperback book that assumes no prior knowledge of LEGO trains or building techniques. After an introductory chapter, Holger explains the different train systems that LEGO has made over the years, from the 'blue rail' era of the 1960s and 1970s to the Power Functions system of today.
This is followed by a chapter on LEGO basics: types of bricks and their geometry, building techniques including SNOT, offsetting and micro-striping. You will probably know most of this already but it doesn't hurt to have a refresher, and it's beautifully illustrated.
The main body of the book covers how to design and build realistic looking trains, while ensuring they run on tight LEGO curves. I am sure this is extremely informative and interesting, given Holger's expertise and experience but unfortunately I can only judge by looking at the pictures.
Finally, the last third of the book provides instructions for a number of models which can of course be understood regardless of your ability to read German.
The models are all based, unsurprisingly, on German prototypes and include a 6-wide ICE high speed train, a 7-wide open freight wagon, a 7-wide BE6/8 crocodile locomotive and finally a very nice 7 wide dark green passenger coach complete with internal fixtures and fittings.
As you can see, the instructions are very well presented and would be very easy to follow.
I can only judge this book on its pictures and on what I know about the author but even so I can tell that this is a quality book written by an expert. If you can read German and have an interest in LEGO trains then it's an essential purchase.
If, like me, your understanding of the language is lacking, you may still find it a worthwhile purchase for the instructions alone, which teach a great deal about building realistic trains. However, Holger told me that negotiations are underway with a US publisher to republish it in English some time in the future so it may be better to wait until then before purchasing.
It can be ordered from Amazon.de or the publisher's website and more information about the book and Holger's trains is available at his website.
Sponsored content