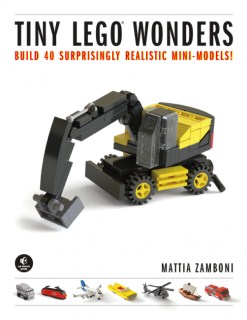 Tiny LEGO Wonders by Mattia Zamboni is the latest LEGO book from No Starch Press.
It's a 200 page hardback filled with instructions for building 40 microscale vehicles. Both the instructions themselves and the models are very high quality and if you have an interest in microscale modelling then this is a book that you will not want to pass up on.
The book is divided into ten chapters, each one dealing with a different type of vehicle: airport, fire, construction, harbour, train station etc. A full list and table of contents can be found on the No Starch website.
The chapters are preceded by double page dioramas which have been modelled by Alexander Bugiel and Matteo Russolillio, and rendered using a variety of tools. I have to agree with the author who describes them as 'breathtaking'. The fire one below is stunning, but is perhaps one of the least impressive.
The models themselves were designed by Mattia and a number of other contributors. Each one is illustrated with high quality renderings and easy to follow instructions. A full list of the parts needed is provided although they are ordered somewhat randomly which makes gathering them together harder than it needs to be.
The quality of the models is excellent and a lot can be learnt from studying the instructions or, better still, building them. Each one is graded easy/medium/hard although I would not expect any of them to be beyond anyone reading this.
If I have one criticism it's that a few of them are reliant on stickers for key aspects of their design, such as the windscreen of the ICE train above.
It would not be right for me to review the book without trying to build one of the models so here's my version of a bulk carrier ship from the harbour chapter, which was designed by George Panteleon.
It was certainly an interesting build that employs some interesting techniques and illustrates how, when building at a small scale, you need to look at parts differently. For example, the 1x2 white grilles that are used for the windows of the bridge.
There are a few sections of the ship that are held on by only one stud so the model is a bit fragile in places but I guess that's par for the course for microcale models. The completed model is about 20cm long and looks fantastic. There's a similar container carrier in the book too, so I might have a go at that next, then maybe design some of my own vessels for a microscale harbour diorama.
This is another excellent book from No Starch Press and one that I have no hesitation in recommending, particularly if you are a microscale modeller already or want to try your hand at it. It would perhaps have been nice to have some non-vehicle models in it, buildings for example, but I guess they have been covered already in other NSP books, such as Tom Alphin's excellent The LEGO Architect.
It's out next month and can be pre-ordered from Amazon:
Thanks to No Starch Press for providing a review copy. The opinions in the review are my own.
Update: Mattia has been in touch and tells me that the following will be provided on the No Starch website when the book later this month:
Comprehensive parts lists will full parts information for easy ordering
Downloadable XML files of wanted lists to make the Bricklink experience as pleasant and fast as possible.
Stickers page to be printed out, cut out, and applied to models by readers