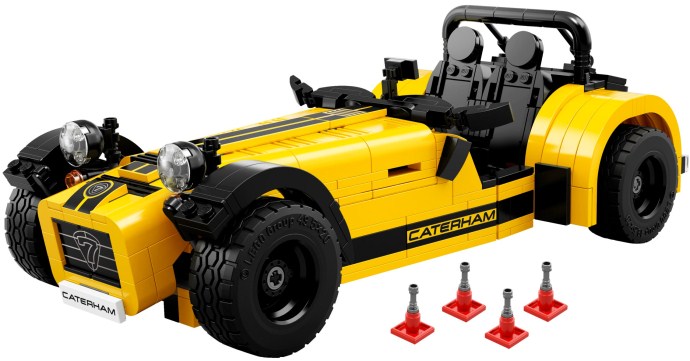 As mentioned earlier by CapnRex101, a media launch event was held today to reveal the latest addition to the LEGO Ideas stable, 21307 Caterham Seven 620R. The event, which was held at the Caterham Cars Crawley headquarters in the UK, was attended by representatives from the LEGO and non-LEGO press, Caterham and LEGO staff, and Carl Greatrix who submitted the original Ideas proposal. I attended on behalf of Brickset, and you can read my event report after the break.
The event was kicked off by Caterham Cars CEO Graham Macdonald (below) who welcomed attendees and provided a brief history of the company which celebrates its 60th birthday next year. It was immediately evident how proud he is that his company has collaborated with LEGO on the Ideas set, noting that some Caterham car sales are in kit form for home assembly and there is consequently an excellent fit with the LEGO brand.
Graham then gave attendees a tour of the Caterham showroom and workshop, providing some background information on the Caterham car range and pointing out some of the more interesting cars they have on show, after which it was time for the big set reveal which took place in a corner of the showroom. LEGO Senior Director Tormod Askildsen, who is Department Director of the LEGO Community Engagement team, spoke briefly about the LEGO Ideas platform, after which the covers were whipped off a shiny new yellow and black Caterham Seven 620R car plus a display unit alongside it upon which the Caterham Seven 620R model was proudly displayed.
The guys you can see in the picture above are Carl Greatrix (right) who submitted the original Caterham Seven proposal to LEGO Ideas, and LEGO designer Henrik Andersen (left) who turned Carl's design into an official LEGO set. Carl described how the original Ideas submission had come about as a result of so many people approaching him at LEGO events and asking how they could get hold of his Caterham models. He described the process of gathering votes, waiting for the official LEGO review, and then waiting to see the final LEGO design as "a journey" and it was clear that he had been itching to tell people about the finished set but had remained dutifully silent until now when he could finally talk openly about it. Henrik talked about turning Carl's design into a set that could pass the tough quality review process of LEGO, and how the main challenge had been to ensure that the model was sufficiently robust. He told attendees that every LEGO set, even those specifically aimed at AFOLs, has to undergo play testing by children to ensure it can stand up to the rigours of play, and that the Caterham was no different in this regard. While he was talking Henrik stripped down a second LEGO Caterham Seven model into its constituent parts as you can see in the picture below, pointing out certain features along the way.
Carl is a well-known member of the AFOL community, and is notorious for his meticulously detailed and realistic builds. It was therefore really interesting to hear him talk about how he genuinely felt that Henrik had improved his original design. This was partly down to Henrik having access to a number of new elements which were already in the pipeline and which just so happened to be perfect for the Caterham model. While no new elements were made specifically for the set, it does apparently contain a total of 15 printed elements and no stickers which was great to hear. Carl's only real regret was that steering, which was included in his original design, did not make it into the final model. This was because it would have made the model too fragile to pass LEGO quality review, and therefore had to be left out. Carl said that the first thing he would do after building the official set was modify it to include steering!
After the reveal attendees were invited to participate in a building challenge. Each participant was provided with a small selection of elements and given 15 minutes to build a model of a car, with Bricks editor Mark Guest winning out in a hard-fought contest. Lunch followed, along with an opportunity for the media folks to chat with the LEGO and Caterham staff as well as each other. Attendees were also invited to test drive a real Caterham Seven.
We will be publishing a review of 21307 here on Brickset in due course, but my initial impressions are very positive – it looks like an excellent representation of the real car, and the fact that Carl is so happy about how the official set came out is greatly reassuring to me, knowing how detailed-oriented he is.
Many thanks to LEGO and Caterham Cars for hosting an enjoyable and informative event and for making the attendees feel so welcome.