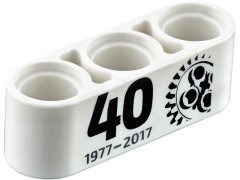 2017 marks 40 years since the first 'Technical sets', as they were called then, were released in Europe.
To commemorate the anniversary every 2017 Technic set will come with a special printed white 1x3 beam, as images uploaded by LEGO today for 42057 Ultralight Helicopter show.
One side of the boxes will have a '40 1977-2017' logo on them, too, which you can see after the break.
It is a shame that some of next year's selection is not up to the high standard we have become accustomed to over the last few years...