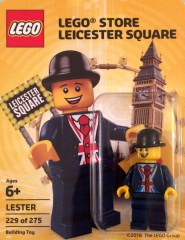 The largest LEGO brand store in the world, in Leicester Square, London opens its doors at midday today.
Yesterday, CapnRex101, DrDaveWatford, myself and nine other 'Bricksetters', along with around 100 other AFOLs from UK and European LUGs and fan media outlets, attended a pre-opening event in the afternoon.
We have been under NDA but we can now report on the event, what is in store, and what exclusive sets are available from it.
---
The event
As we made our way past security onto the ground floor we were welcomed by clapping from the LEGO employees and given a scratch card.
Once all 100 or so of us were inside the event kicked off at 2pm with a short welcoming speech by Glenn Abell, Vice President of D2C (which includes the brand stores) for Europe, Middle East and Africa.
Kim Ellekjær Thomsen, community manager, then said a few words, in particular he thanked brand retail for organising the event and inviting the biggest fans of LEGO (us!) to experience the shop before it opened.
There were a lot of LEGO employees in the store, including two designers. Here is Brickset's very own Adzbadboy talking to Jamie Berard who was on hand to sign set boxes, including his 10253 Big Ben and 10251.
CapnRex101 had an opportunity to interview Glenn Abell. He will be publishing it tomorrow.
---
The store
There was not much to see outside because it is still hidden by hoardings. Presumably they have come off today.
Inside it looks like any other brand store albeit on two floors. The ground floor is sparsely populated with merchandise: much of the space is taken up by display models which you will see below.
The 'brand ribbon' display windows run along the shelving as it does in other shops.
The Pick-a-Brick wall is upstairs and, frankly, is a little disappointing. It is no bigger than anywhere else.
With all that space available, I had hoped more wall space would have been devoted to it. There was nothing in it that you will not find elsewhere although people were clamouring over the 2x2 tan tiles which are less commonly found.
There is a huge red telephone box in the middle of the upper floor.
Most of the regular sets are upstairs, too.
Here is the store guide:
---
The store display models
One of the most impressive models on display is this 3D mosaic of London which graces the walls of the stairs.
At first glance it looks flat but as you look closely you notice that the buildings have a low relief. The bridges across the Thames are at an angle across the corner but you do not notice without looking closely. It is very cleverly done.
There is a massive model of Queen Elizabeth Tower (aka Big Ben) in the entrance which extends to the upper floor. The clock works and chimes, although I have to say I did not notice.
Brickley makes an appearance, complete with umbrella, monocle and bowler hat.
There is a partial tube map on the wall, illuminated in sections to simulate trains moving along the lines.
On the left-hand side of the ground floor is this model of a tube train, complete with William Shakespeare and guardsman, plus a space to sit for a photo between them.
Here is Lester, tucked away in a corner of the front of the store where you can get your photo taken with him.
---
Exclusive sets
So, about Lester... We were each given two scratch cards which revealed one of four prizes, one of which was Lester. I know of at least five people who won one but as you can see in the image below he is very scarce indeed: just 275, so the odds of winning one are very small indeed.
It does seem crazy that he is not available for everyone to buy but I heard something about the bowler hat being out of production and 300-odd was all that could be mustered up from stock. It sounds plausible, I guess...
Sadly, I did not win one :-(
The coolest thing in the shop, which is new to this store, is the mosaic maker. Remember 3443 LEGO Mosaic from year 2000, where you uploaded an image to shop.LEGO.com then received an instruction sheet and 1x1 plates to build your image? It is basically a re-release of that except that you sit in the booth, have your photo taken, then tweak with brightness and contrast until an acceptable mosaic is produced.
Once you are happy you press a button to print the image and eject a Mosaic set from the machine.
Here is Fairy Bricks Kev with his...
The set, 40179, contains 4500 1x1 plates in four shades of grey and yellow, a 48x48 baseplate, and a brick separator. It costs a whopping £99.99!
The plates come in five boxes inside the main one. It is all very nicely packaged and great fun, but expensive!
It was one of the scratch card prizes. Sadly I did not win that one, either :-(
The new 21034 London Skyline Architecture set was also available for purchase, exclusively in this shop until its general release in 2017. Its designer, Rok Žgalin Kobe, was present to sign boxes. We were sent one earlier in the week and our review of it will be live later today.
40220 London Bus was also in abundance if you missed out on the promotion earlier in the year.
Oh, and I almost forgot, 40145 LEGO Brand Retail Store is free with purchases over £125 but can also be bought separately for £19.99.
---
Finally...
It was an excellent event and one I felt privileged to attend. I did not win a Lester; my cards revealed a Creator parrot and a mystery LEGO gift, which turned out to be 40139 Gingerbread House, so not too shabby.
Thanks to Brand Retail and Kim for organising the event, and to everyone from Brickset that attended. It was great to meet you all!
As for the store itself, it may well be the biggest LEGO brand store but it is not huge by any means. In fact I was a little disappointed at its size after all the hype. There is a lot of repetition in the store: popular products were on shelves upstairs and down. LEGO only has, what, 1000 different items for sale at any one time, most of which are small, so I guess that is inevitable. It is a shame the PaB is was not double the size; there was plenty of room for it to be.
Nevertheless, it is definitely worth visiting. Try and time your visit to avoid the crowds though!
Are you planning on going over the weekend? Let us know how you get on!
Sponsored content