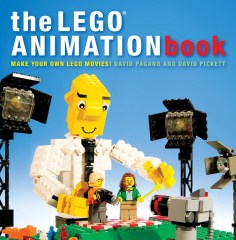 The LEGO Animation Book: Make Your Own LEGO Movies! is a No Starch Press book that has just been published in time for the holidays.
I am no expert on LEGO animation, although I have dabbled a bit helping the kids at my local after-school computer club. I can, however, tell that this is an excellent book that covers everything from cameras and software to animating minifgures, building sets and post-production.
The 200-page square soft back book really does seem to cover every aspect of creating brick films, and provides a myriad of tips and techniques to help you make better ones.
This video, by one of the authors David Pickett, goes through the book chapter-by-chaper and provides a good overview of its content.
Some of the techniques explained in the early part of the book are demonstrated in this short film, The Magic Picnic.
I am not going to review or pass detailed judgement on the book given it is not something I know a lot a about but as I said at the start, it is very comprehensive and will be a very valuable resource to those who make, or want to start making, LEGO animations.
I am not aware of any other books that cover the subject with the same depth and breath as this one, so regardless of your skill level you are sure to learn something from it. I will certainly be taking it to the kids' computer club next time we are making brick films, although getting 8-9 year olds to keep the camera steady is still a bit of a challenge...
It is available now from Amazon: US | UK | Canada