LEGO has been gifting us with one or two Creator animal sets a year since the inception of the theme in 2003. For me, they are one of the highlights of the company's annual output and epitomise all that a good LEGO set should be.
They are free of specialised parts and licenses, and the price hike that goes hand-in-hand with them, whist being great looking models that are full of useful elements and creative building techniques.
We've not had a Creator animal set with a dinosaur as the main model since 2012 (6914 Prehistoric Hunters) so given the popularity of the beasts one is long overdue.
---
The box
This year's Creator sets have a new box design with a yellow border round the edge of the front and a thin orange border around the image. As a result it looks very attractive. The 3-in-1 nature of the set is also communicated with more clarity than on last year's boxes.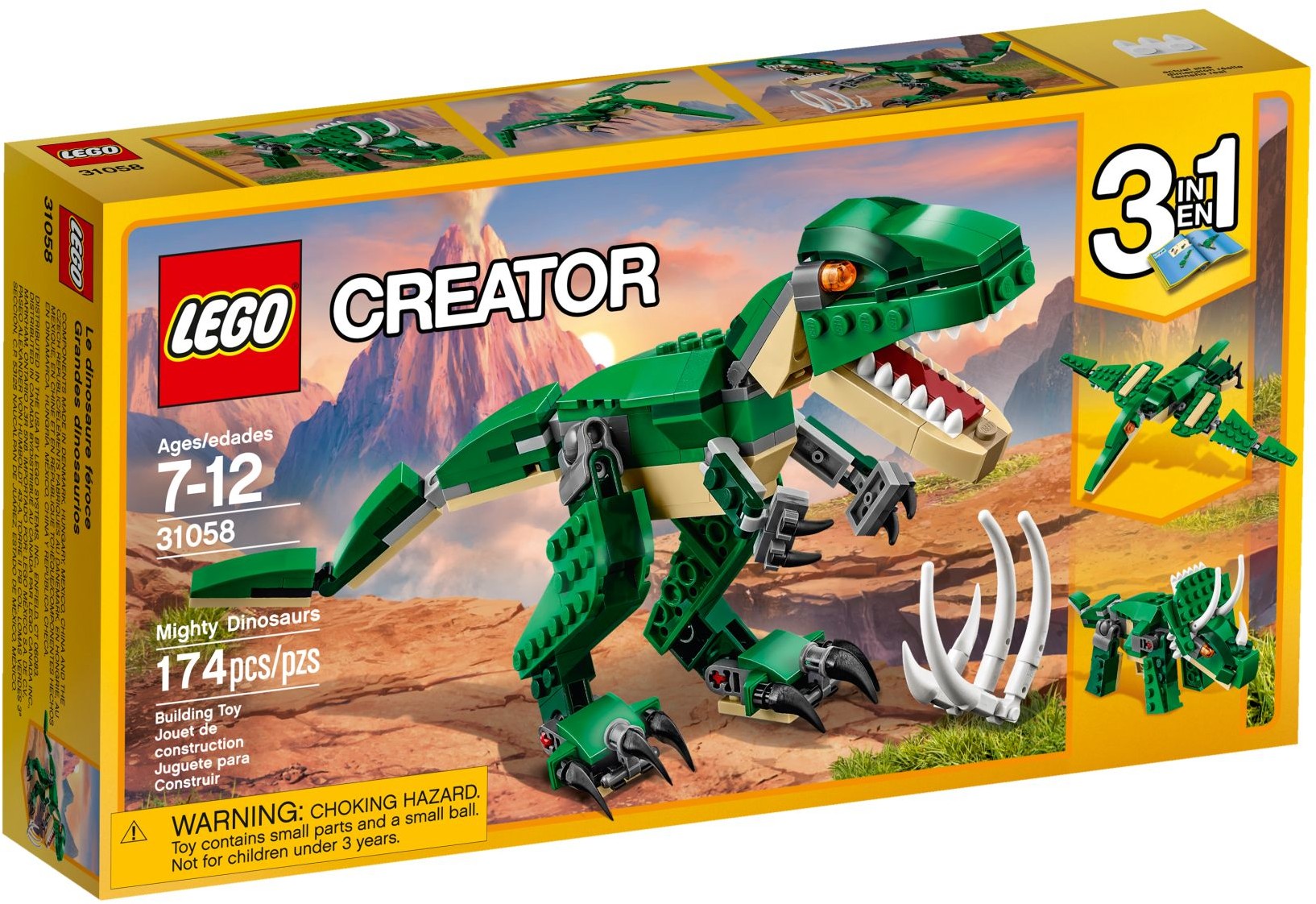 ---
T-Rex
Let's start with the 'A' model: the T-Rex. It's a fearsome looking beast, 25cm from head-to-tail, with a ferocious-looking set of teeth in its jaws.
The articulation in its hips and ankles allow it to be positioned in a variety of poses. I think the leg's design, with a fixed 90-degree knee, looks great, but it does hinder poseability somewhat. They certainly look more convincing that those on the T-Rex in 6914 Prehistoric Hunters.
View image at flickr
The 2-clawed hands and arms are perhaps the weakest part of the design but even so they are a vast improvement on previous attempts at this scale.
View image at flickr
Previous T-Rexes haven't had a joint in their neck, so one ie welcome here to enable more movement if the head.
The green/dark green with tan underside colour scheme looks great although I think I would have preferred the lower jaw to be green rather than tan.
View image at flickr
The 6172459 (Plate 2X4X1 1/3 W. Side Bow, design: 47755, colour: Earth Green, new in this colour) which is usually used in vehicles, looks great representing the beast's eye sockets.
The set comes with four of the new 6175968 (Brick 1X1, W/ 2 Knobs, Corner, design: 26604, colour: Brick Yellow), used in the head.
Open wide! -- the tooth-filled jaw is hinged using clips and a 3l bar.
This joint technique, used for the ankles, utilising 4547958 (2X1 St.Ø4.9 Hole W. Half Beam, design: 85943) and 4286267 (Fric. Element, Ball Ø 10.2, design: 53585) , is employed in all three models and one I've not seen before.View image at flickr
View image at flickr
---
Triceratops
Take the T-Rex apart to build the second-largest model, a Triceratops.
The lumbering bulk and proportions of the herbivore have been captured well.View image at flickr
It's horns and frill look great although the tan plate on the back is not ideal.View image at flickr
Some articulation of its legs is possible although the front ones can't be moved backwards very far so it can't be positioned in a typical walking pose.View image at flickr
View image at flickr
---
Pterosaur
Finally, we have a Pterosaur. The designer has captured the look of the thing perfectly and It's as good as the A model in that regard.
The wings have three joints each which allow for a wide range of movement. And, impressively for such a small model, its legs are jointed too allowing the reptile to stand on them.View image at flickr
However, it can't balance on them: the tips of the wings need to be in contact with it to stop it toppling.View image at flickr
View image at flickr
---
Verdict
This is an outstanding Creator set. All three models are superb and worthy of being 'A' models in their own right. The last Creator dinosaur set of this size, 6914 Prehistoric Hunters, despite being just 4 years old, looks very crude in comparison.
I can't really fault it at all, other than repeating what I have to say in every review of a set that uses mini ball-joints: it's about time they were made in colours other than grey!
The asking price of £12.99 / $14.99 buys you 174 useful and versatile pieces and a whole load of fun to boot. It's worth buying more than one so you can leave the individual models built: I had to dismantle them for this review but had I been able to buy more copies locally to avoid that I would have done: it really is that good.
---
Wait... there's more!
While looking up part numbers at the back of the instructions I noticed that a fourth model is shown, a Brachiosaurus or similar, that can be built using instructions available at LEGO Customer Services.
View image at flickr
It looks to be as good as the others. Looks like I'll need to buy three more of this set, then...