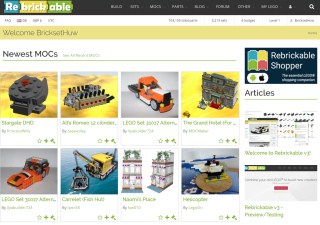 Rebrickable is a site that allows you to determine which official sets and MOCs submitted by its users you can build from the parts in sets you already own.
It's been possible to synchronise your set collection recorded here with Rebrickable to enable you to take advantage of its features since 2012. The site has recently been upgraded so now would seem like a good time to remind you how to connect to it.
This tutorial covers setting up the connection between your Brickset and Rebrickable accounts, exporting your collection to Rebrickable, importing it from Rebrickable if you have it recorded there, and also how to access some of the site's features without leaving Brickset.
---
Setting up the connection
First, you need to have a Rebrickable account and, of course, be logged into Brickset. You can sign up at Rebrickable here.
Once you have one, go to your profile (by clicking on your name at the top right of the page) then click on Edit your profile in the menu.
Near the end of the page you'll see a Rebrickable login information section. Enter your Rebrickable username and password then click on Check login details. Doing so will send your credentials to Rebrickable to be checked and, if they are valid, save a Rebrickable user token in your profile which will be used for subsequent connections to the site. Your password will not be saved at Brickset.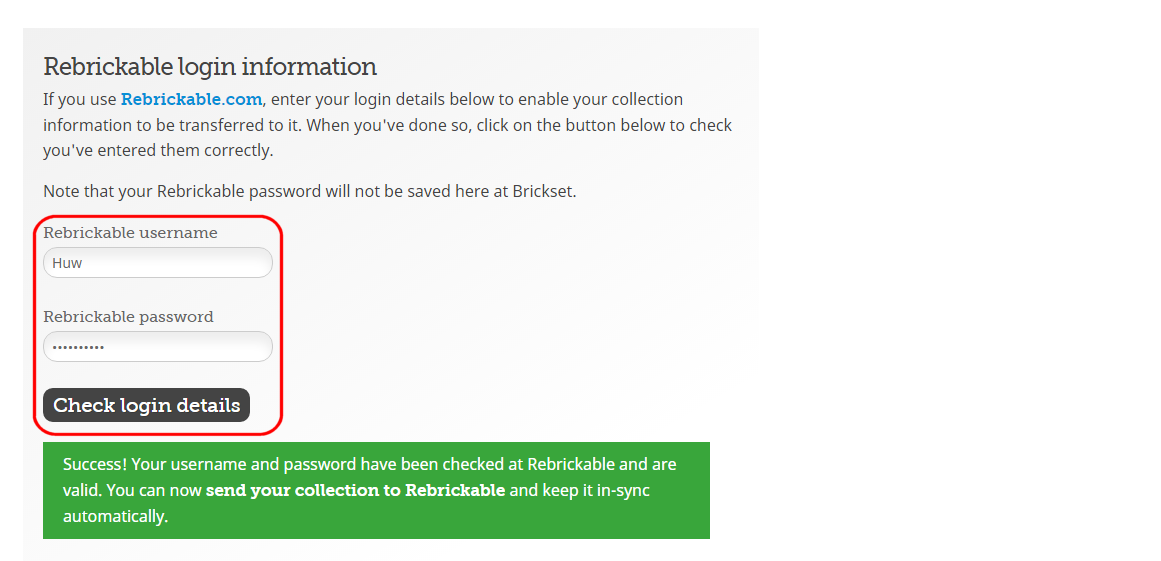 Brickset uses Rebrickable's API (application programming interface) to seamlessly integrate with it, negating the need to export/import files. After you've exported or imported the first time, it automatically keeps your collection at Rebrickable synchonised as you add and remove sets to/from your collection.
---
Exporting your collection
Click on the My Sets menu item at the top of the page, then in the Sets Owned box on Export, then on To Rebrickable.com...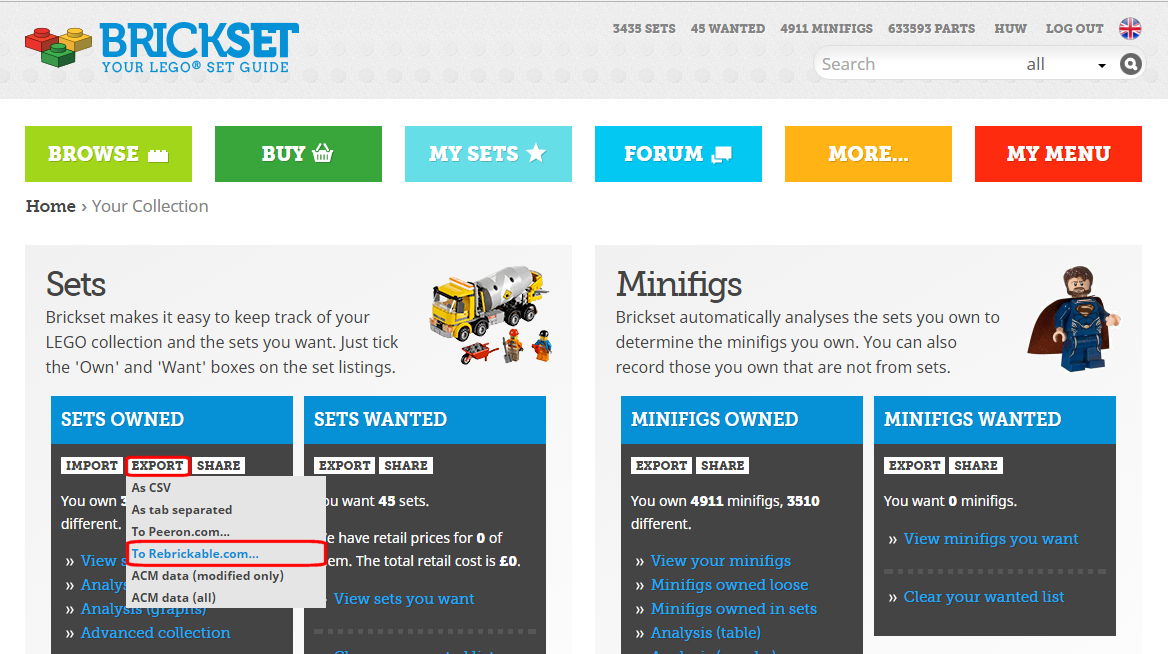 If you haven't yet entered your Rebrickable credentials and had them validated as described above you'll be prompted to do so before proceeding, but if you have you'll be presented with the screen below.
Simply read the notes then click on Send my sets to Rebrickable.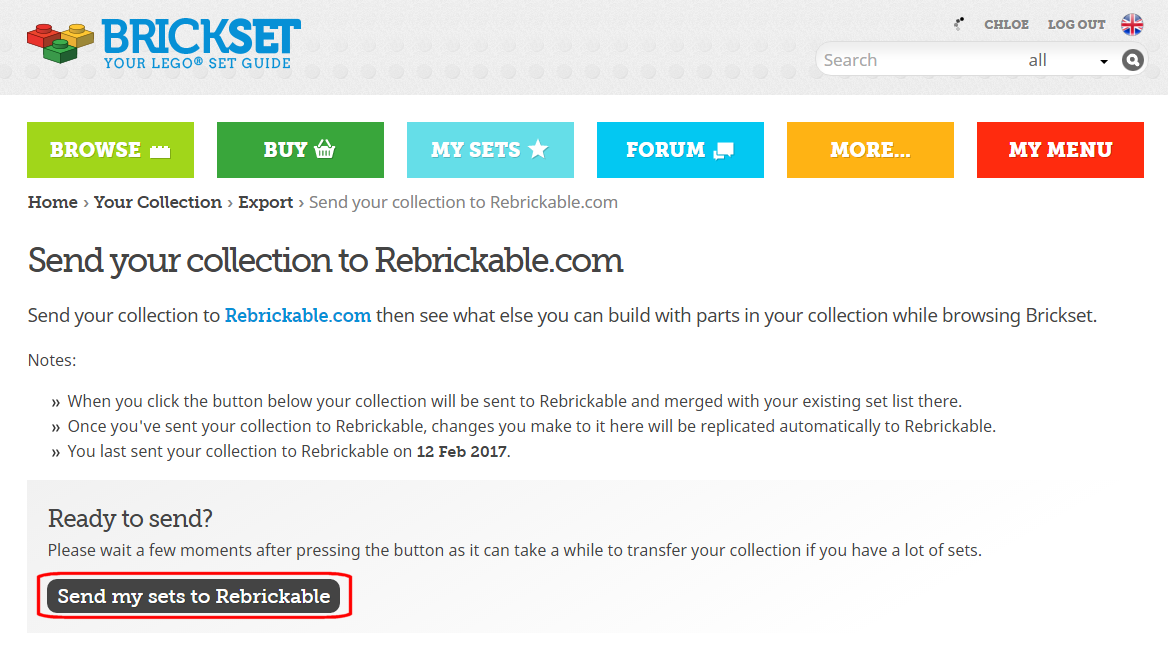 After a few moments you'll see confirmation that your collection has been sent and how many sets have been accepted by Rebrickable.
The time it takes will vary depending on the size of your collection: up to about a minute if it's particularly large.
You may find that fewer sets have been accepted than are in your collection at Brickset. This will either be because (a) you have already added them to your collection at Rebrickable or (b) you own sets that are not listed at Rebrickable.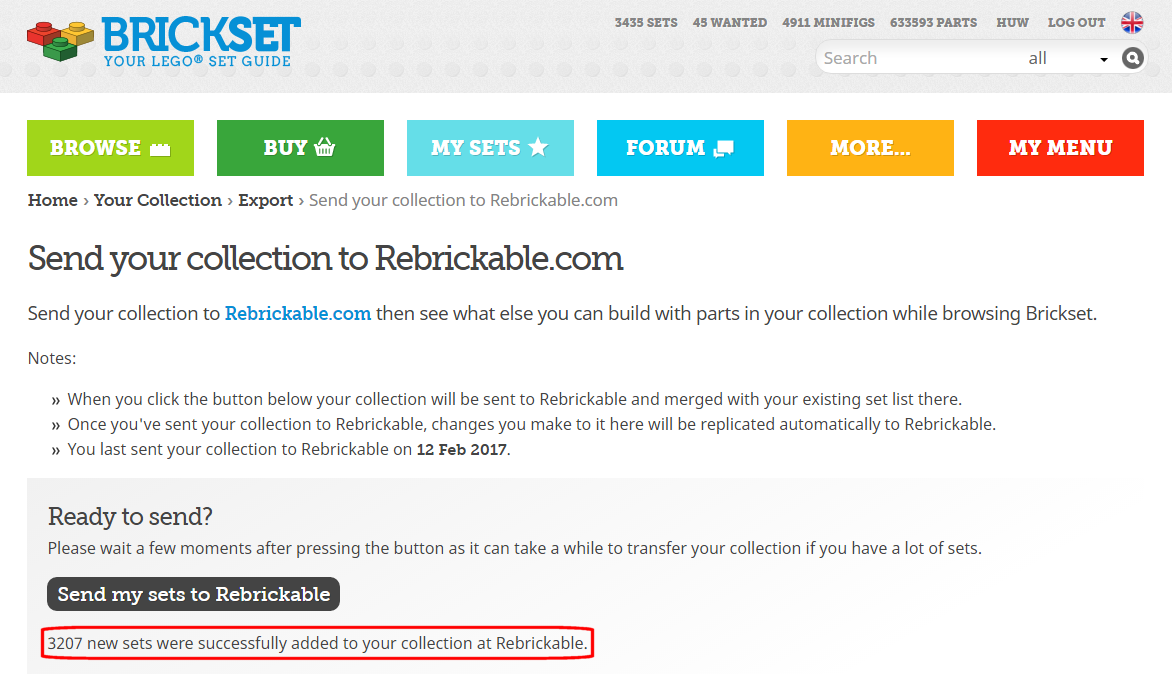 Once complete, take a look at your collection at Rebrickable to check that it looks OK.
---
Importing your collection
If you have already recorded your collection at Rebrickable you can import it to Brickset by clicking on My Sets, then on Import From Rebrickable.com... in the Sets Owned box.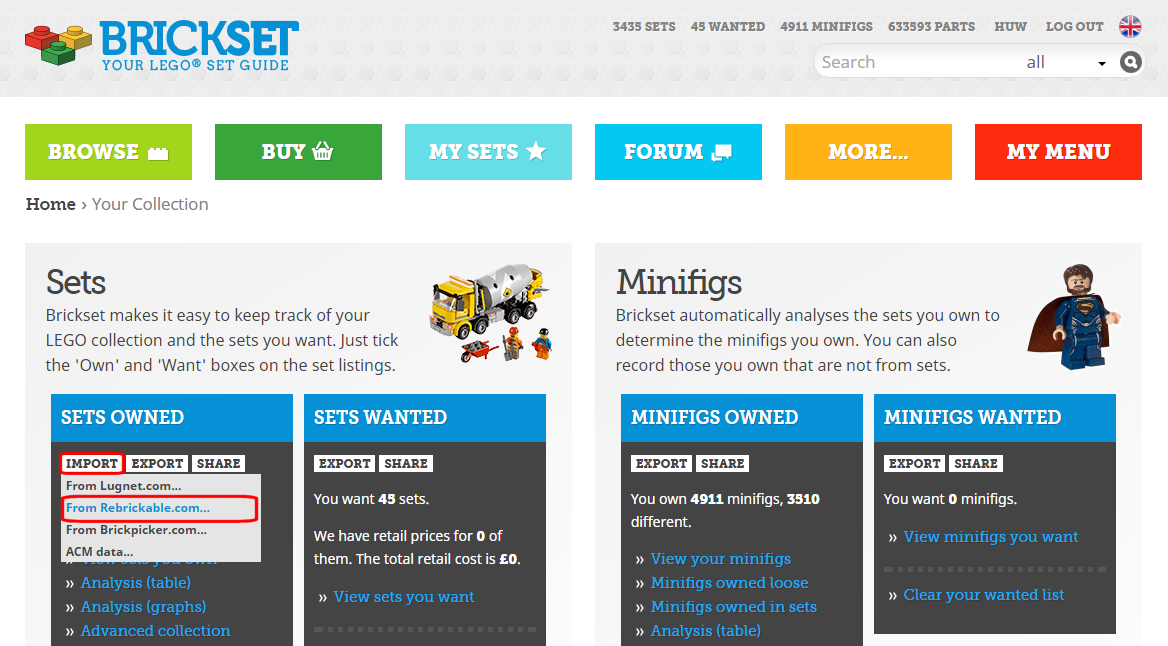 If you've entered and validated your Rebrickable credentials as described above successfully you will be presented with the following screen. Click on Import data from Rebrickable.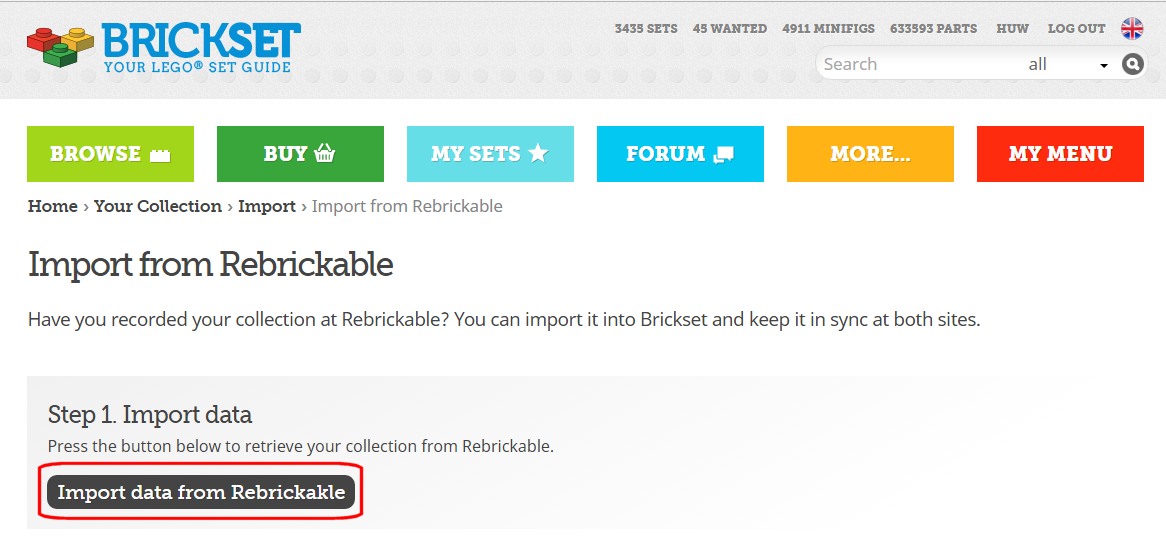 A connection to Rebrickable will be established and the number of sets in your collection there determined.
Read the notes then click on Import.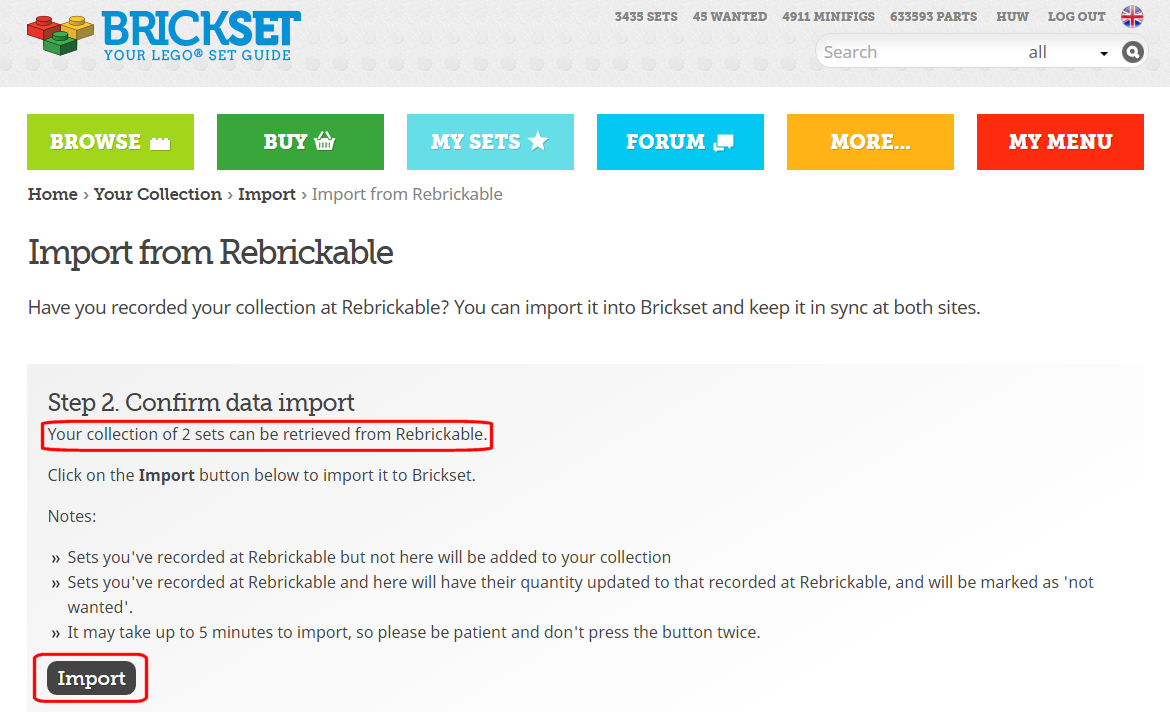 Your collection will now be retrieved. It may take a while if you have a large collection.
On completion, the number of sets imported will be indicated. If any sets unknown to Brickset were found, they will be listed.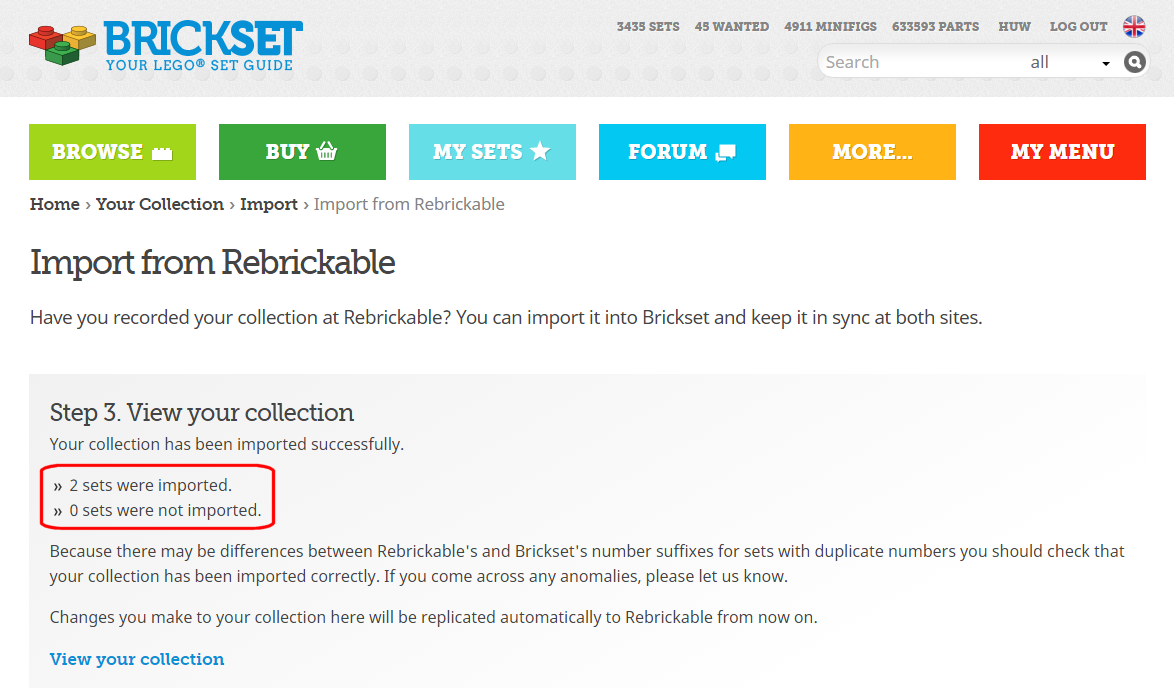 You can then view your collection here to check it all looks OK.
---
Rebrickable information
Rebrickable has a whole host of cool features that you can now take advantage of. One particularly useful one is the ability to see whether you can build a particular set from parts you already own.
Rebrickable's API is leveraged to show you this on the side panel of details pages of sets you do not own. It will indicate the percentage of parts you already have along with a link to enable you to find out what they are and what you are missing.
Also, if Rebrickable members have submitted alternative builds for the set you're looking at these will be viewable from the Alt. Builds tab. Creator sets are usually good example of this, such as 31047 Propeller Plane: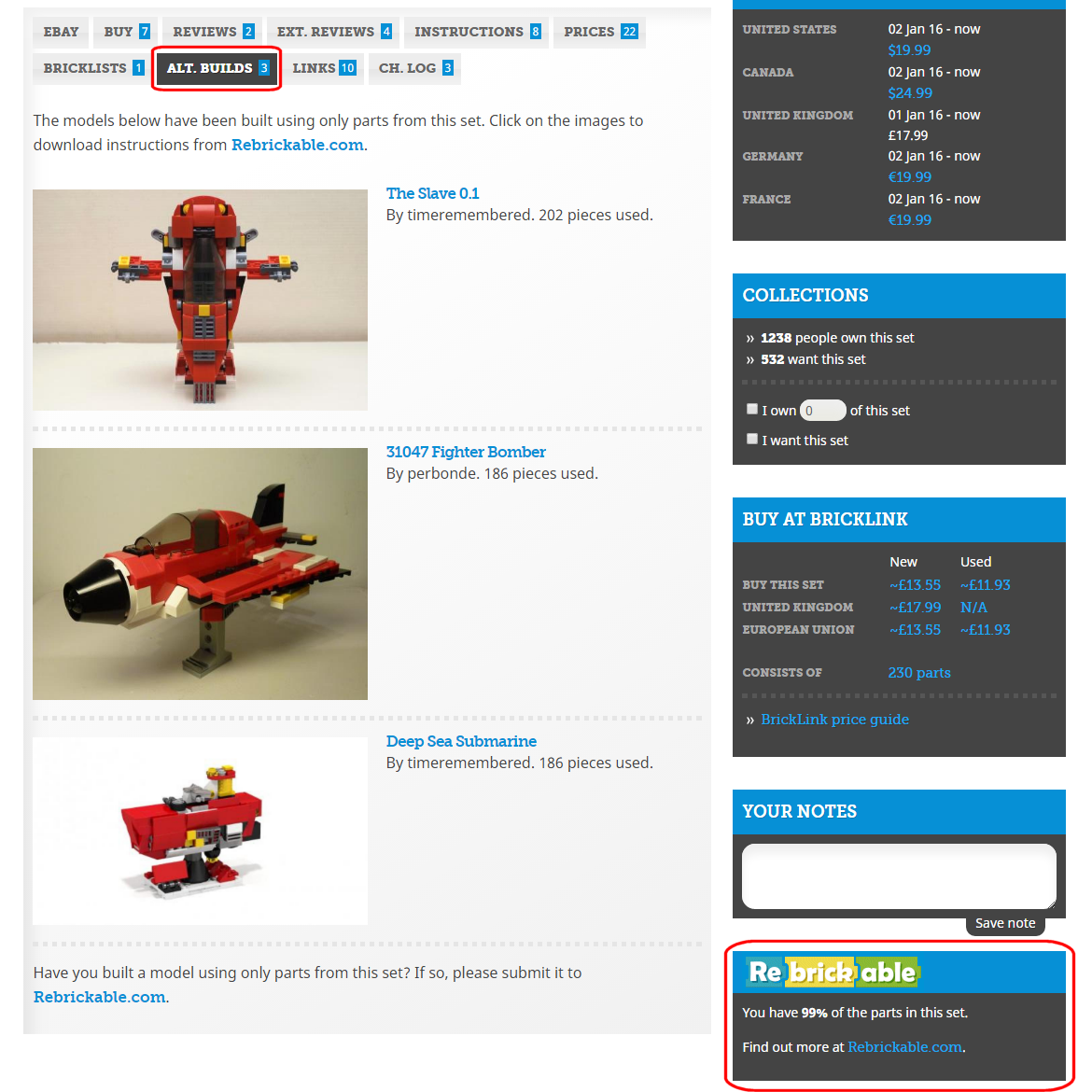 ---
Rebrickable's features complement Brickset's and I encourage you to use them in tandem to enhance your online LEGO experience.
Note: Brickset is now using a new version of Rebrickable's API. If you encounter any problems, please let me know.
Sponsored content