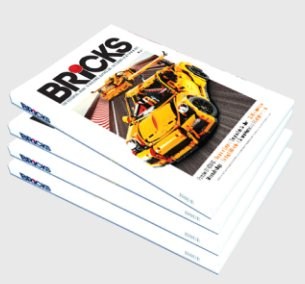 A few of you have noticed that there hasn't been a print issue of Bricks and Bricks Culture magazines for a few months and have raised concerns in comments and in the forum about the magazines' future.
Mark Guest, editor of Bricks, has issued this statement:
"Firstly we would like to thank all our loyal fans and customers for their support for our titles through what has been a difficult period. We cannot thank you all enough for bearing with us.
"As you may be aware there has been a pause in production of the Bricks and Brick Culture titles since the end of last year. This has primarily been due to issues linked with our operational partners that have been beyond our control. These issues were unforeseeable at this point and have resulted in limited access to our existing stock including issue 18. We can assure you we have been deep in negotiations with third parties to resolve this situation and enable us to continue to provide everybody with the quality product they have all come to expect.
"As you can perhaps imagine this has been a long process and negotiations have not always been smooth, however we are hoping now that some of the external issues have been addressed allowing us a clear a path to finalise our negotiations and finally free the much-awaited issue 18. At this point we would like to stress that this pause in operating is merely a pause and we have the full intention to continue to release the products and fulfil our fans orders and subscriptions going forward. We are now confident that the issues are on course to be resolved.
"We thank you for your patience and support over what has been a difficult period where multiple factors have impacted our ability to produce the magazines we all love."