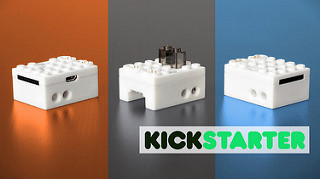 An exciting LEGO-compatible project, PFx Brick, has been launched today on Kickstarter by Jason Allemann (of Ideas Maze fame) and Michael Gale.
PFx Brick is a programmable electronic brick controller designed to offer three major functions for your LEGO creations: motor control, lighting effects and sound effects.
It's compatible with Power Functions motors and lights and can be operated using a PF remote controller. In fact it looks to be incredibly sophisticated and flexible so I encourage you to check out the campaign on Kickstarter and pledge your support.
---
What is the PFx Brick?

The PFx Brick is an electronic brick controller designed to offer three major functions for your LEGO creations: 1) Motor control, 2) Lighting effects and 3) Sound effects. These functions are controlled using any LEGO Power Functions InfraRed (IR) remote control. The actions the PFx Brick performs are configured using the PFx App software. The App is also used to load sound files on to the PFx Brick. Once configured, the PFx Brick can be built into your LEGO creation transforming it with the magic of light, sound, and animation!


Why another control brick?

Isn't this an SBrick clone? etc. The PFx Brick is a lot more than just a motor control brick. We LEGO fans are lucky that we have a thriving ecosystem of alternative electronic controllers such as the awesome SBrick and BuWizz. These controllers are aimed specifically at motor control applications where multiple motor channels and radio control via Bluetooth technology was a priority. The PFx Brick on the other hand, was designed to offer two new capabilities that we believe have been missing from LEGO models: advanced Lighting and Sound effects. Futhermore, we wanted these features to be super-easy to use. Therefore, we chose Infrared remote control rather than Bluetooth radio technology. We believe the simplicity of instantly using your existing IR remote controls instead of depending on a smart-phone or tablet based control app has a lot of appeal to many users.

When can I download the app?

The PFx App will be made publicly available for download after the successful completion of the PFx Brick Kickstarter campaign. Download links for both Windows and Mac OS X PFx App versions will appear on the Fx Bricks website at http://www.fxbricks.com/pfxbrick/pfxapp/

When will the software API be available?

The PFx Brick USB communications API will be made available after both the successful completion of the PFx Brick Kickstarter campaign and manufacturing of the production version of the PFx Brick. The API will consist of documentation of the USB message format and data structures as well as sample C/C++ code demonstrating the use of the API.

Fx Bricks bio

Fx Bricks is a specialized company combining the creative wonder of LEGO bricks and electrical engineering expertise. This potent combination injects life into LEGO creations with the magic of light, sound, animation, and automation. Founded by long-time LEGO fans Jason Allemann and Michael Gale, Fx Bricks represents the combined wealth of 40+ years of professional engineering and management experience.

Does LEGO know about/support the PFx Brick?

No. The PFx Brick is neither officially supported nor endorsed by the LEGO Group. The PFx Brick, like many other 3rd party products in the LEGO ecosystem, is designed to complement and not compete with products from the LEGO Group. Fx Bricks has been careful to differentiate design elements such as the Power Funtions compatible connectors so that they are not associated with trademarked design features of the LEGO Group.
Sponsored content