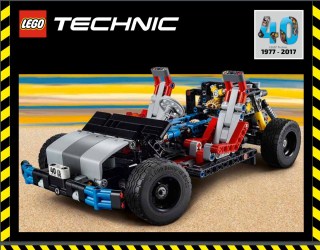 As you probably know this year is the 40th anniversary of the launch of Technic in 1977. As well as adding a special printed 1x3 beam in every set released this year, LEGO has produced instructions for creating an up-to-date version of the classic 8860 Car Chassis from 1980 using parts from this year's sets 42057 Ultralight Helicopter, 42061 Telehandler, and 42063 BMW R 1200 GS Adventure.
A poster showing the model was on display at the German toy fair but then it went quiet and as far as I know LEGO has not announced availability of the instructions, or linked to them from the Technic microsite. However, they have been published and can now be downloaded from the customer services portal.
I believe our resident Technic expert FlagsNZ is planning to build and review the model in the next few weeks.
Thanks to Ronny for the news. You can view a couple of large images after the break.