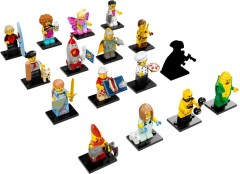 The seventeenth series of Collectable Minifigures will be released on the 1st of May and images of the complete set and the box have been revealed today.
The official names of the minifigures have also been announced. They are the Battle Dwarf, the Veterinarian, the Circus Strong Man, the Corn Cob Guy, the Elf Girl, the Hot Dog Man, the Gourmet Chef, the Connoisseur, the Rocket Boy, the Retro Spaceman, the Roman Gladiator, the Professional Surfer, the Dance Instructor, the Butterfly Girl and the Yuppie. The final minifigure remains under wraps but is identifiable based on its silhouette alone.
Which minifigures are you most excited for? Let us know in the comments below and look out for our review in the next couple of weeks.
Sponsored content