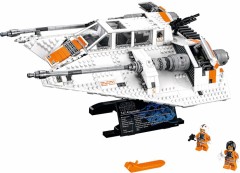 Over the past few months, we've been experimenting with our new polling system, and you guys seem to be enjoying it quite a bit - so, thanks!
About a week and a half ago, we asked what your favorite LEGO Star Wars subtheme is in honor of the franchise's fortieth anniversary. The results are in and we can now show them off and present some analysis on why certain things placed the way they did. 4,665 of you responded, so here we go...
The winner, without a doubt, is the LEGO Star Wars Episode V: The Empire Strikes Back line of sets, which includes Ultimate Collector Series models like 75060 Slave I and this year's 75144 Snowspeeder.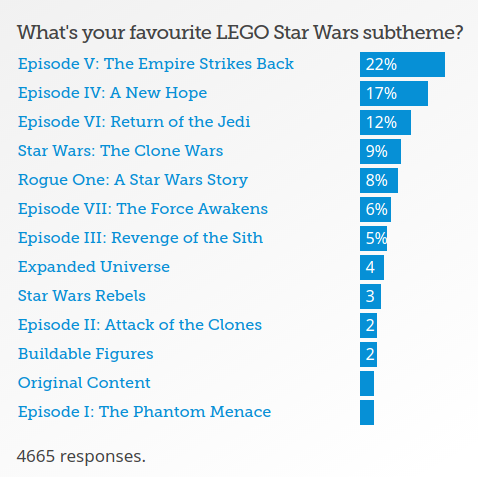 Now it's question and answer time.
Why Empire? It's not entirely secret that most people voted based on which film they liked best - unfortunately, too, since that wasn't the point of the poll and the results may be skewed a little. TESB consistently ranks amongst Star Wars fans as a favorite film, so it is perhaps not surprising that the LEGO sets rank so high on this poll.
However, many would agree that Empire is not very well-covered in LEGO form by any means, with a severe lack of Cloud City and Dagobah based models. Remove the ones that do exist and you're basically left with Hoth, where the sets are quite lackluster to be honest. And that's not even accounting for the almost universally disliked 2016 UCS 75098 Assault on Hoth set. In short, I haven't a clue!
Why does Rogue One rank so high? Indeed, this subtheme has only two waves of sets so far and yet already ranks at #5, right after the original trilogy and The Clone Wars! It's not much of a surprise, as the sets are still in recent memory and all of of considerably high quality.
What about the prequels? The Phantom Menace ranks lowest, as it usually does when ranking the films. However, a lot has been covered in the sets and they obviously sell well - or else we wouldn't be seeing more created, like this year's 75169 Duel on Naboo. I guess the general consensus is that we're just sick of seeing sets for a 'bad' movie, regardless of the set designs themselves? ;-) Attack of the Clones and Revenge of the Sith ranked pretty much where I expected they would.
The rest? It's not that surprising to see the Buildable Figures and Original Content products towards the bottom of the rankings, though constraction connoisseurs (like me!) will surely argue against the majority. It is also interesting that a subtheme like The Clone Wars beat The Force Awakens, as there is not many weak sets in the latter range that I can see (and that is what I myself voted for), and it is more recent.
One interesting thing to point out is that the Expanded Universe is only one percent higher than Rebels. With a lack of sets in the former category, that must be testament to their quality, such as what is exhibited in the fantastic recent 75182 Republic Fighter Tank.
CapnRex101 made this comment in the original article, which I can concur with:
"This is a very tricky question with quite a few variables to consider."
"My favourite Star Wars film is probably The Empire Strikes Back but LEGO's coverage of the movie has been patchy, particularly given the lack of Cloud City products. On that basis I believe A New Hope is by far the best as almost every scene has been represented in some way but there are relatively few sets or minifigures which really stand out in my opinion. "

"However, based on the consistent quality of the sets I think Rogue One is probably the most successful. There is no significant weak link in the range released thus far, although the film itself is not among my favourites of the saga and there are plenty of gaps which have yet to be filled, inevitably due in part to the short time since the first sets were released."

"Ultimately, I voted for The Force Awakens. It is neither my absolute favourite Star Wars film nor does it offer the very best sets but I think it ranks relatively highly on both counts and the overall coverage of the scenes and characters since 2015 has been brilliant."
The original trilogy subtheme rankings are probably bolstered by the iconic nature of the subject matter, which triggers peoples' nostalgia.
So there you have it. I hope you enjoyed the poll and analysis. What are your thoughts on the subject? What types of polls would you like to see us do in the future? Please let us know in the comments below.
Sponsored content