The first LEGO Boost product, 17101 Creative Toolbox, is officially released in a few days although some retailers are shipping it already and I believe pre-orders from shop.LEGO.com have been received too.
I purchased one from eBay at the weekend and received it on Tuesday. I've not therefore had much time to evaluate it fully but I thought it would be worth writing something about my first impressions.
---
What is it?
Boost might look like any regular LEGO set from the box but it's far from it. It comes with no printed instructions and requires a iOS or Android tablet running the Boost app to be able to do anything with it.
Essentially, it's a robotic system for kids that are too young for Mindstorms. But that's not to say it's been dumbed down: from what I can tell the programming language is sophisticated and the models are certainly that.
View image at flickr
As well as the main 'Vernie' robot, instructions are provided in the app to build a cat, a guitar, a bulldozer-thingy and some sort of machine that assembles small models.
View image at flickr
---
What's in the box?
The set consists of 843 bricks which are packaged in ten numbered bags. If you intend to build Vernie first then you'll open the bags sequentially, but other models will require you to open them all at once.
As wll as the bricks, there's a play mat made from a plastic-coated cardboard and a poster. My poster was badly creased.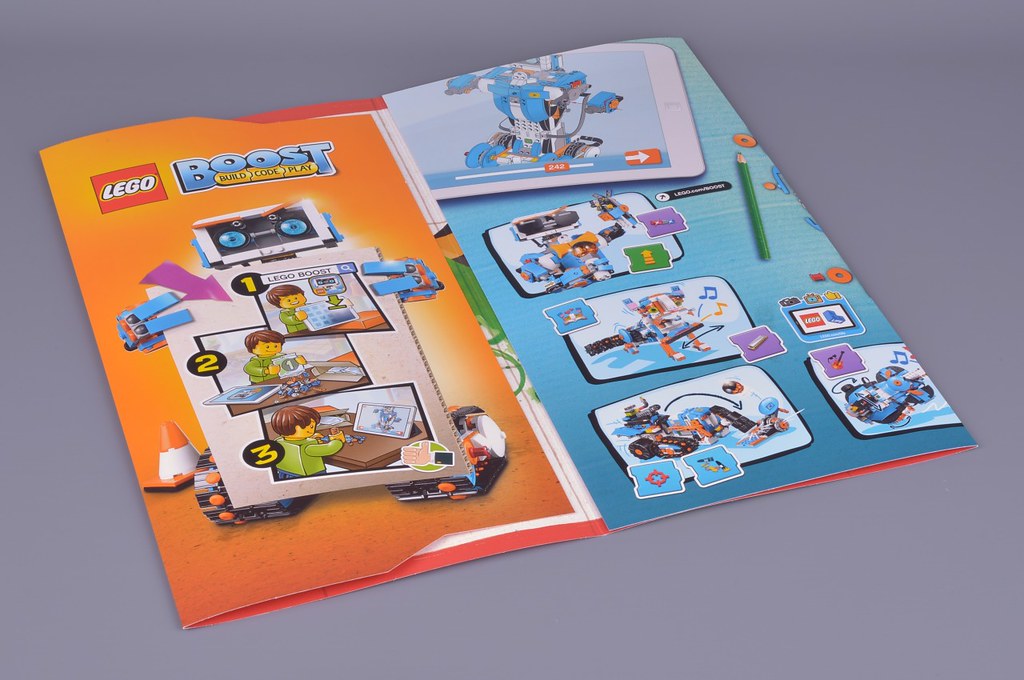 View image at flickr
View image at flickr
There's an inventory of parts on the back of the mat:
View image at flickr
---
The Boost Bricks
The kit provides three electronic elements that are used in every model.
The Move Hub is a big chunky thing that houses two motors, two connectors, 6 AAA batteries, and of course the microprocessor and Bluetooth interface for hooking up to the app. A single button on the top switches it on.
View image at flickr
A separate 'interactive' motor is also provided. I think interactive means that it can sense when it's turned by hand thus providing another input.
View image at flickr
The third element is a combined colour and distance sensor:
View image at flickr
The peripheral components plug into the Move Hub by means of the same connectors used in the WeDo 2.0 system. I'm not sure what they are called but they are much nicer than the RJ11/45 style ones used for Mindstorms and more compact than Power Functions ones.
I don't know if the WeDo motors and sensors are compatible with Boost: I suspect someone will try them soon enough.
View image at flickr
---
System requirements
To use Boost you MUST have a compatible tablet and to use the app you MUST have a Boost kit.
The hardware requirements for the tablet are published at LEGO.com and for iOS devices are quite restrictive: apparently only iOS 10 is supported which means you need an up-to-date iPad. The app does not run on phones, PCs or anything else.
The Android requirements are less restrictive but apparently the app is not available in the Amazon Fire store yet so running it on Fire tablets is not practical for most people at the moment
When you first switch the move hub on it searches for a tablet running the app via Bluetooth and won't do anything until one is found. Similarly, the app doesn't do much until it has connected to a move hub. I don 't think you even access the instructions until it's connected to one.
In other words, you can't use one without the other...
---
Operation and Software
The first time you run the software and connect the move hub it will probably do a firmware update which takes 15 minutes or so. Once that's done the interface opens and from here you can select a project.
I can't quite recall, but I think the five main ones are locked until you've built a simple chassis and completed a couple of small tasks which familiarise you with the coding interface and check everything is working.
At the time of writing the Android app is at version 1.0.2 which is more stable than the one I downloaded earlier in the week. However it seems to have stopped my colour and distance sensor from working.
I guess we can expect frequent updates to the app in the first weeks following its release and to be fair, the product hasn't been officially launched yet so I suppose I should expect some teething troubles.
The main interface shows the five projects. Scrolling right enables access to the 'free programming' area.
View image at flickr
Once you select a project you'll find several activities, all but one of which are locked. Once that's been completed the second oneibecomes available, and so on.
View image at flickr
The building instructions are clear and look to be easy to follow although I have not built anything yet.
View image at flickr
The programming screen utilitises a simple drag-and-drop interface which will be familiar to kids who have used, for example, Scratch.
The most frustrating thing I found that nothing is labelled so you have to guess what the blocks do from the icon. Some are obvious, of course, but the more complex ones less so.
The move hub has no microphone or speaker so sounds are captured and output via those in the tablet.
In the program below it's started by putting your hand in front of the sensor, and the purple block at the end emits a noise from the tablet.
View image at flickr
In addition to following the activities tailored for each model you can also program the unit freely using blocks similar to those in Mindstorms. I've not had a chance to look properly yet but I suspect the lack of written labels or instructions will hinder understanding.
View image at flickr
---
Potential uses
So, what's it good for? Well, as a robotic kit for kids it looks to be excellent. It successfully combines activities in the app, organised like a game, with physical building and interaction. It should therefore appeal to kids who are glued to their digital devices and, perhaps more importantly, to parents who want get them to do something else other than play on a screen.
Will it have its uses for AFOLs other than for building relatively simple robots like those in the box?
The fact it's tied to a tablet and can't be used autonomously may well hamper, but I suspect someone more inventive than I will come up with some killer uses for it.
I'll write more about Boost in the coming weeks and if you have one I encourage you to join the Boost discussion in the forum to let us know how you get on. I'd be particularly interested to know if your color/distance sensor is working with the Android app...
---
Want to know more?
There are a few reviews around on non-LEGO sites written by people who had early access to the kit. This one at Space.com is particularly informative.