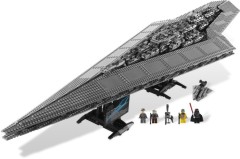 Foreword by Huw: I asked Paul to write this review because I was curious about the quality of Lepin sets and I suspect many of you are too. It is not an endorsement and it's certainly not meant to encourage or condone their purchase. If you would rather we hadn't published it, or are easily offended, please skip to the next article.
Over to Paul...
No, it's not April Fool's Day – we're actually reviewing a Lepin set!
A multitude of Lepin-branded construction sets have flooded Chinese marketplaces over the past few years. Unlike most other LEGO clones, Lepin is notable for shamelessly producing near-identical copies of genuine LEGO sets – instructions 'n' all.
But just how good are they? To find out, I bought one of their largest sets, which is a copy of the LEGO Star Wars Super Star Destroyer. This article is not really a review of the set as such, but rather an opportunity to carry out an objective comparison of Lepin and LEGO bricks.
---
As you can see below, even the box art of Lepin's version is a blatant rip-off of the genuine LEGO 10221 Super Star Destroyer set. The only significant differences are the Lepin branding and the peculiar STAR WNRS licensing. I'm sure that'll throw Disney off the scent.
View image at flickr
I decided to buy my Super Star Destroyer clone from AliExpress, which seems to be one of the most common places to purchase Lepin sets. This online marketplace is owned by the Chinese Alibaba Group, which generates more money than Amazon and eBay combined. AliExpress has been around since 2010, and its purpose is to allow Chinese companies to sell goods directly to international customers.
The most obvious appeal of Lepin sets is that they are typically cheaper than the corresponding genuine LEGO sets, even when you include the cost of postage from China. Clones of discontinued sets can seem particularly attractive, as the price differences are even greater. For example, the real LEGO Super Star Destroyer had an RRP of £350 when it was discontinued in 2014, but could set you back at around £600 on today's aftermarket. Alternatively, you could consider Lepin's clone, which is available for less than £90 including postage:
View image at flickr
To reduce shipping costs, most of the sets available on AliExpress do not include the outer retail box. As I was only interested in assessing the quality of the bricks, I went for the cheapest one I could find.
Just a week after I placed my order, a hefty box arrived in the post. It was literally bulging under the strain of having so many parts crammed into it, and the ring-bound instruction manual was folded in half and placed on top.
View image at flickr
Interestingly, the cover of the instruction manual reads "STAR PLAN" instead of "STAR WNRS" (as if that makes it any better...), yet the large sticker that goes on the UCS name plaque still features the STAR WNRS theme branding.
View image at flickr
Nearly all of the Lepin parts were supplied in transparent bags, not too dissimilar to those used by LEGO. One of these had ruptured in transit, but I'm fairly sure that nothing had escaped from the box.
View image at flickr
The sticker sheet was taped to the inside of the instruction manual. It is not quite a direct copy of the genuine sticker sheet. Most notably, it features the ridiculous "STAR WNRS" text, but eagle-eyed readers may also notice a careless typo on the last line: "additionsl".
View image at flickr
Is this lack of attention to detail a sign of things to come? Read on and find out...
Parts appeared to be distributed fairly sensibly across the numerous bags, so I figured it would be fairly easy to find any individual part. To test this hypothesis, I built the set by taking parts directly from the unnumbered bags, without doing any pre-sorting, and the only notable confusion was caused by the 2x10 and 2x12 black plates being mixed in the same bag.
View image at flickr
One bundle of larger plates came inside a ziplock bag – presumably these might have been supplied loose inside the Lepin retail box?
View image at flickr
At first glance, all of the minifigure parts appeared to be supplied in the same small bag. However, I soon discovered that a few parts are annoyingly scattered across other bags. For example, Darth Vader's red lightsaber blade was very well hidden in a bag full of 4x1 red plates, which I didn't discover until much later in the build process.
View image at flickr
As with most other clone brands, the arms, hands, hips and legs are separate parts that you have to assemble yourself. This is a fairly straightforward task, but the instruction manual does not cover this, mainly by virtue of being a direct copy of LEGO's instruction manual.
View image at flickr
I have to say, once assembled, the minifigures were surprisingly good, including the printing. Here they are before I found the extra parts later on:
View image at flickr
Apart from the lack of LEGO logos on the parts, you'd be hard pressed to distinguish these from the real thing (when you manage to click the legs together fully).
There is also an eerie lack of branding on regular Lepin parts, with all plates and bricks having completely plain studs. Notice that some studs have small recesses to prevent remnants of Lepin's injection moulding process from protruding beyond the top.
View image at flickr
LEGO's injection moulding system is clearly superior in this respect. Not only does the LEGO Group avoid the need for these unsightly recesses on random studs, but they even manage to fit most of the LEGO logo on the studs that the molten plastic is injected through. Grab your nearest LEGO brick and see if you can spot where the ABS was injected into the mould.
A quick word of warning for perfectionists: Some Lepin parts that are supposed be identical might not look the same! For some inexplicable reason, the location of Lepin's recessed studs is not always consistent. This is demonstrated in the two light grey parts below.
View image at flickr
Disappointingly, some of the Lepin parts were, quite frankly, rather grubby. I can only assume this has been caused by grease or other muck in the injection moulds, as it only appeared to affect certain parts, such as the large 8x16 plates.
View image at flickr
But even more disappointly, these particular parts exhibited some other injection moulding flaws – notice the extended gate (or sprue) still emanating from the centre of the recessed stud:
View image at flickr
All of these large parts were similarly affected, with the dangly sprue extending well beyond the top of the stud.
View image at flickr
If left attached, these dangly bits can obviously affect how other parts fit on top. Judicial use of a fingernail solved the problem, but it would be nice not to have to carefully examine each part before fitting it to the model. This is a problem I have never encountered with genuine LEGO parts.
Although these problems manifested themselves rather early on in the build, I soon found the plate-intensive build process rather enjoyable. Everything seemed to fit together well, and the clutch was mostly as expected. On a few occasions, I genuinely forgot that I wasn't building with real LEGO.
View image at flickr
But every now and then, I'd be rudely shaken down from my tree of disillusion. Take the following tubular parts, for instance – they are clearly longer than the parts pictured in the instruction manual (although this is not a problem, as the parts are hidden inside the final model).
View image at flickr
While most parts fitted well, I found that Lepin's 2x2 round bricks had a ridiculously weak clutch. They literally fall off when you turn the model upside down and shake it a bit.
In contrast, the cloned Technic elements in the Lepin set were surprisingly good. The black pegs that hold the internal frame of the Super Star Destroyer together are pretty good compared with other knockoff LEGO clones. They can be inserted and removed many times without suffering any noticeable damage.
On the other hand, the long red pegs are slightly problematic, as they are slightly too flared at the end, which makes them hard to insert.
View image at flickr
Apart from that, all other cloned Technic bricks and beams in the set seemed very good.
After another short period on autopilot, where I once again forgot this wasn't real LEGO, I stumbled upon this plate, which had an unsightly hole through one of the studs:
View image at flickr
This manufacturing flaw obviously happened during Lepin's injection moulding process, while the ABS plastic was still soft and malleable. Again, I have never seen a flaw like this on a genuine LEGO part, which is testament to LEGO's superior manufacturing processes and quality control.
Several pages later, I had difficulties fitting a Lepin 1x6 tile to the model. It simply did not want to go on properly. When I removed it and compared it with some other 1x6 tiles, the problem became obvious:
View image at flickr
The faulty tile is the rightmost of the four shown above. It is noticeably warped, which is why it was difficult to mount it atop another plate.
Here's a side view of the warped part compared with a good one:
View image at flickr
This was the only warped part in the set, and it was most likely caused by being ejected from the mould before it had cooled sufficiently.
By this point, I was starting to get a bit disheartened with the build. It wasn't until the end that I discovered that this part was spare, and so I needn't have worried about it.
Then another anomaly turned up in the form of an incomplete 2x2 red plate:
View image at flickr
To be clear, the corner of this red plate has not been damaged – rather, it never existed in the first place! This is indicative of flawed injection moulding processes and poor quality control.
The Lepin-manufactured parts appear to be injection moulded in a similar way to genuine LEGO parts, but my clone set ended up containing several faulty parts. When a part is not completely formed like the one above, it can result in poorer clutch power, besides looking ugly.
View image at flickr
Fortunately all of these duff parts ended up inside the set and were not visible when I had finished building it, but that was probably by luck rather than by design.
View image at flickr
When plastic is injected into a mould, the air that is already in the mould escapes via a set of narrow vents, which are narrower than the width of a human hair. These vents are too narrow for viscous, molten ABS plastic to flow through, and so there should be no air bubbles in any parts, providing the vents are sensibly positioned.
Flaws like the one above could be attributed to either air remaining in the moulds, or simply not enough plastic being injected. I have never seen these kind of flaws in genuine LEGO parts, which yet again goes to say a lot for LEGO's superior quality control processes.
Even if you were unfortunate enough to discover malformed parts in a genuine LEGO set, getting a free replacement part is fairly straightforward. Unfortunately, in the case of my Lepin set from China, I was well and truly on my own when it came to replacing any malformed or missing parts.
Despite AliExpress's various guarantees, I ended up having to fix these problems at my own expense. My claim window had already closed by the time I realised there was a significant number of problems, and the seller simply ignored me when I made contact. This has certainly put me off buying any other Lepin sets, and using AliExpress.
Later on in the build process, I discovered several other parts that did not fit properly without modification. If you look at the following example, you'll notice that it will never sit flat because of a protrusion on its underside.
View image at flickr
These had to be trimmed flush with a sharp knife to allow the set to go together properly. This is definitely something I have never had to do with a genuine LEGO part!
View image at flickr
I believe the above fault is caused by wonky ejector pins in Lepin's injection moulding machines. These pins push the solidified part off of the mould when the mould is opened up, but if the pins do not sit flush with the base of the mould while the part is solidifying, then the pins themselves will affect the shape of the part (note that pins are usually round, but on the above element they are rectangular).
If the pins poke out too far when the mould closes, then the resultant parts will exhibit shallow holes where the ejector pins were – these are known as witness marks. You can even see these types of marks on genuine LEGO bricks, as it is an inherent part of the injection moulding process; however, LEGO does a much better job of it.
Witness marks are not a problem – they are usually sited where you won't notice them, such as along the bottom edges of a part; but problems can occur if an ejector pin does not poke far enough into the mould (or if the pin's end surface is not flush) while the plastic cools. This will cause protrusions in the resultant part, most likely underneath it, which means it cannot be attached to other parts without cutting off the excess plastic.
To make matters worse, I then discovered that a black 2x10 plate was missing entirely! As every other 2x10 plate was in a sealed bag, this was clearly not something that was lost in transit. This was a mistake made in Lepin's packing warehouse, which is a poor show. Although LEGO sets occasionally have parts missing, they are usually only small ones – missing something as large as a 2x10 plate is very rare (and even if it were to happen, LEGO's customer services would quickly put it right for you at no cost).
In order to finish building the Lepin Super Star Destroyer, I had to sacrifice one of my own LEGO 2x10 plates. Somewhere inside the finished clone is a piece of real LEGO, and I'm still not sure what I think about that.
Lepin's 1x2 Radiator Grilles also exhibited multiple injection moulding flaws. The following example has a protruding witness mark on each corner, caused by the ejector pins not being inserted far enough into the mould. These also had to be trimmed off so that the parts could fit properly.
View image at flickr
Viewed from above, several of these parts also exhibited some unsightly flash, which is excess plastic that has leaked between the two surfaces of the mould.
View image at flickr
This was rather fiddly to rectify without damaging the parts (or my fingers). The presence of flash – particularly this much of it – is something I have never seen in genuine LEGO parts. It highlights further flaws in Lepin's injection moulding processes – either the moulds were not pressed together properly, have been poorly machined, or they have already worn out such that they do not fit together tightly.
There were no problems with the parts used to construct the two stands that hold the SSD, and so I had no concerns about their capability of holding the rather heavy model. Here is the cloned UCS name plaque with the sticker on, complete with its typo on the final line:
View image at flickr
I had a few moments during the build process where it was difficult to tell whether a certain part in the instruction manual was light grey or medium grey (or medium grey or black). I sometimes have this issue with genuine LEGO instructions, but Lepin's printed manual left me in more doubt than usual. The following page demonstrates the problem well – every part in the blue callout boxes is supposed to be the same shade of grey, but those at the bottom look decidedly darker (it's not the best photo, but trust me, it's not shadows causing this illusion).
View image at flickr
Lepin's red ink cartridge obviously needs replacing, too, as all of the red parts looked decidedly orange. However, this was not so much of a problem, as there were no orange parts in the set.
View image at flickr
The minifigures' weapons are supplied on three runner frames like the one below. There are more than you need, so you end up with several bonus weapons.
View image at flickr
The weapons are easily removed from the runner frame by hand, but like an Airfix kit, you might want to neatly trim the remnants of the gates off with a sharp knife. This is yet another thing you don't have to worry about with real LEGO, but on the other hand, you do get several spare guns.
Notice the witness marks on both the runner frame and the weapons themselves. A single sprue on the back suggests that the frame may have been manufactured using a traditional cold-runner injection moulding process, where molten ABS plastic is injected through the single sprue; the plastic then fills the runners (the frame), and then flows through narrow gates into the weapons themselves. The whole runner frame must then be allowed to cool into a solid before the mould can be opened and the frame is then ejected.
In contrast, most LEGO parts are manufactured using an optimised hot-runner technique, which allows parts to be produced significantly faster. Each mould is capable of producing several parts in one go, but without forming a solid runner. Molten plastic is fed through a sprue into a hot runner, which is essentially a runner frame that is never allowed to cool into a solid. Each time the mould closes, plastic is injected directly from several gates that are fed by the hot runner. As only the LEGO parts have to cool down (and not the whole frame), they can be quicky ejected ready for the next ones to be made.
The cost of a reliable and effective hot-runner injection moulder is much greater than a cold-runner system, where parts need more time to cool down; but it has obvious advantages - not just in terms of speed, but also in terms of waste reduction. The only material output in a hot runner system is the parts themselves, as the runner frame stays molten, inside the machine. Although a solid runner could obviously be melted down and reused, a hot runner system also eliminates having to remove the parts from the runner frame after it has been moulded.
While some of Lepin's parts may have been made on traditional injection moulding machines, I suspect from the gate placement that most of their regular parts are manufactured using a hot-runner system (similar to LEGO's). This is purely conjecture, as I have never seen their machinery, but if true, then it indicates significant investments in terms of moulds and machines. These would allow Lepin to produce several parts per mould every single second of the day; although as we have seen so far, Lepin's quality is not quite up to scratch.
Lepin has done a good job with its colours, though. They are almost indistinguishable from the colours of equivalent LEGO bricks, but I still wouldn't want to contaminate my collection of real LEGO bricks with cloned parts, no matter how good some of them are. So Lepin's Super Star Destroyer is an atomic entity as far as I'm concerned - it will either stay built and on display, or be sold. I see no point in taking it apart to build anything else when I have plenty of real LEGO to use instead.
Finally, I ended up with a bizarre amount of spare parts after completing the set. One of these was a black 2x12 plate, which I suspect was mistakenly added instead of the missing black 2x10 plate.
View image at flickr
Amongst this bundle of spare parts is the warped 1x6 tile that I thankfully did not have to use, but the most unexpected spare parts are the five light grey 8x8 plates. That's something that you wouldn't expect in a real LEGO set (mind you, I would have preferred to have the missing 2x10 plate than 5 random plates I do not need!)
---
Conclusions
I was surprised to find that most of Lepin's parts were very high quality – certainly better than any other clone brand I am familiar with. On a few occasions, I honestly forgot that it was not real LEGO I was piecing together. However, there were several exceptions which detracted greatly from the building experience, and from Lepin in general.
Lepin's overall quality control is evidently poor, with sealed bags containing dirty parts, malformed parts, parts with weak clutch, and one large part was missing entirely. These flaws are relatively unheard of with LEGO.
Lepin's injection moulding processes clearly have plenty of room for improvement. A plastic brick construction set should not require a sharp knife to complete. It was also disappointing to find a typo on the large name plaque sticker, and aftersales support from the Chinese seller was nonexistent when I ran into problems.
But it is hard to ignore the considerable price difference between LEGO's Super Star Destroyer and Lepin's clone (particularly as the LEGO version is now discontinued).
The Lepin set was cheap enough to allow me to satisfy my curiosity, but even so, I do not consider it to have been a worthwhile purchase. It provided an interesting experience, but quite frankly, the number of dodgy parts (and a large missing part) made it rather unenjoyable at times, as I kept wondering what the next showstopper would be.
Based on these experiences, I doubt I will be buying any more Lepin clone sets, whatever the subject matter is. Lepin versions of currently available LEGO sets seem particularly unattractive, as the cost savings can be marginal (LEGO sets often have better discounts than Lepin sets), and you are likely to face quality control issues like those detailed in this post.
Until now, I have avoided discussing moral issues in order to achieve a fully objective review and comparision of Lepin and LEGO parts. But we can't ignore the elephant in the room any longer. Lepin is shamelessly stealing LEGO's designs, instructions and artwork without permission. Research, design work and testing carried out by the LEGO Group is effectively being picked up by Lepin for free, which is partly why Lepin is able to provide its sets at a lower cost.
Some people understandably object to Lepin on moral grounds, but I can also understand the appeal of getting a 99%-there clone of a discontinued set at a significantly reduced price. That aspect was enough to pique my curiosity, and while I feel slightly bad about funnelling some of my money towards Lepin, I suspect this could be offset by a number of people reading this review and consequently deciding to buy genuine LEGO sets instead of Lepin's dubious clones.
In summary, I was surprised how good many of Lepin's parts were; but conversely, some of them are very poorly made. The experience of building a set is just as important as the final result, and various issues meant the experience was not particularly fun in this case. With hindsight, I would not have spent £90 on this.