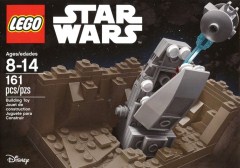 75192 Millennium Falcon contains 7541 pieces so is by far the largest rendition of the YT-1300 freighter released to date! The smallest contains just eight pieces and is found in 6176782 Escape the Space Slug, an exclusive set which has only been available on a couple of previous occasions.
However, LEGO has kindly provided us with a few copies of 6176782 Escape the Space Slug to be given away to Brickset readers over the Force Friday II weekend! Continue reading to find out how you can add this unique set to your collection...
Navigating an asteroid field and escaping the maw of a giant space slug requires incredible piloting skill and extensive knowledge of the Millennium Falcon. We are therefore going to select our winners by asking three questions which you will need to answer via email. The questions are as follows:
What speed does Han Solo claim that the Millennium Falcon can achieve when speaking with Luke in Star Wars Episode IV: A New Hope?
Five characters are shown piloting the Millennium Falcon during the Original Trilogy. Can you name any three of them?
From whom does Rey steal the Millennium Falcon when fleeing Jakku in Star Wars: The Force Awakens?
---
Please email your three answers to [email protected] and include your name or Brickset username in the message.
The winners will be chosen at random from among those who answered all three questions correctly and the contest will close at 23:59 BST on the 3rd of September so please submit your entries before then.
This contest is open worldwide and the winners will be notified via email next week.
Good luck!
Update: The contest is now closed. We will be contacting the lucky winners a little later in the week!
Sponsored content