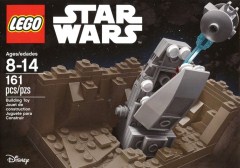 LEGO kindly provided us with three copies of the highly exclusive 6176782 Escape the Space Slug to be given away to Brickset readers over the Force Friday II weekend. We received 1583 entries in total, 1248 of which gave the following correct answers to our three questions:
What speed does Han Solo claim that the Millennium Falcon can achieve when speaking with Luke in Star Wars Episode IV: A New Hope? Point five past lightspeed or a speed sufficient to make the Kessel Run in less than twelve parsecs.
Name any three of the five characters who are shown piloting the Millennium Falcon during the Original Trilogy. (Any three of) Han Solo, Chewbacca, Leia Organa, Lando Calrissian, Nien Nunb.
From whom does Rey steal the Millennium Falcon when fleeing Jakku in Star Wars: The Force Awakens? Unkar Plutt.
We have selected three winners at random from among those who answered our questions correctly. Find out if you are among them after the break...
paulbarnett
jamie75
merman
Congratulations to the winners! We will contact you shortly via email.
We are hoping to run more giveaways like this in future so keep an eye on the homepage!
Sponsored content