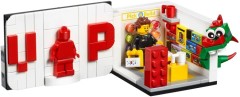 The very cool 40178 Exclusive VIP Set is now free with purchases over $125 / £100 / 125€ at shop.LEGO.com, and from today until 15th October you'll receive double VIP points as well!
If you haven't already, read our review of the set then use these links to place your order:
USA | Canada | UK | Germany | France. Thank you!
Sponsored content