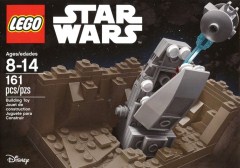 Today we are launching our building competition to keep you busy over the holiday period.
We have four of set 6176782 Escape the Space Slug -- a hard-to-find Star Wars microscale vignette of a scene from the original trilogy -- to give away.
All you have to do to be in with a chance of winning one is to build your own microscale Star Wars vignette. Think of a classic scene or location from one of the films and build it smaller than minifig scale, it's as simple as that!
Read the rules and find out how to enter after the break.
---
Prizes
There'll be four winners who will each receive a 6176782 Escape the Space Slug.
---
Rules
Models should be built from real bricks: no virtual submissions will be accepted.
Your vignette should be no larger than 8x16 studs and 20 bricks high. There should be no overhang on any side.
For the purposes of this competition microscale means smaller than minifig scale, so minifigs should not be included.
Your model can include any scene, location, vehicle or craft from any of the theatrical release Star Wars films, including The Last Jedi.
If you wish to model a vehicle or space ship, for example, you should also include an 8x16 section of terrain on which to display it.
---
Entries will be judged on the following criteria
Adherence to the rules
Likeness of the model to the scene being modelled
Building techniques and parts usage
Originality
---
How to enter
Upload a maximum of two images of your entry to the Brickset Flickr group set up for this competition, or post your entry on Instagram using the hashtag #BricksetSpaceSlugCompetition.
Your models should be new and unseen prior to this competition. Significantly updated models are permitted.
You may submit multiple entries.
Virtual creations in LDD, stud.io or other CAD program ARE NOT permitted. All submissions should be built with real bricks.
---
Small print
Please do not include any references to sex, drugs, alcohol etc. in your entry.
Custom and non-LEGO components are not permitted.
Although we will not be judging your photographic skills, please try to light your models evenly and photograph them against a clean background.
Please upload your entries by 23:59 GMT 31st December 2017
To give the judges time to properly consider all entries, winners will be announced by the end of January.
The judges' decision is final and no correspondence will be entered into.
---
If you have any questions, feel free to ask in the comments.
Good luck!
Sponsored content