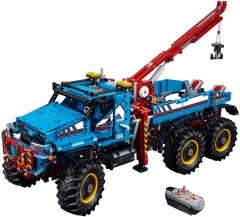 We reviewed the three Technic sets released in the summer (42068 Airport Rescue Vehicle, 42069 Extreme Adventure and 42070 6x6 All Terrain Tow Truck) a few months ago and while we liked the sets we were not so impressed by their prices, particularly in the UK. The retail price of 42070 6x6 All Terrain Tow Truck, for example, is an eye-watering £219.99!
Clearly we are not alone in thinking that LEGO lost the plot a bit when setting the prices because all the major retailers have reduced them by around 30% so it's safe to assume that they were not selling at full price. 42070 6x6 All Terrain Tow Truck is currently available for a much more reasonable and realistic £139.99 from Amazon.co.uk, which is a 36% discount, and 42069 Extreme Adventure can be yours for £94.99, a 32% discount, also from Amazon.co.uk.
Don't forget you can view all the discounts on Technic sets on our shopping pages.
Here are links to our reviews:
Sponsored content