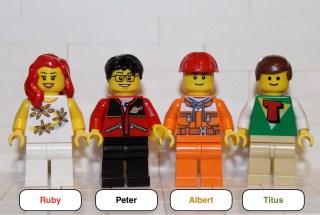 Peter Goodwin, author of the book The Streets of Brickingdon, is running a competition to win the minifigs featured in it.
1st Prize: An exclusive set of the actual Minifigures from the 'Build My World' book: The Steets of Brickingdon, a certificate of authenticity, and a set of 4 bookmarks
10 Runners up will receive a set of 4 bookmarks.
All you have to do is email the Author with the words "LEGO giveaway" using the email found on page 2 of the book. You will then be entered into the prize draw. If you are one of the lucky winners the Author will ask you one question about the book.
Find out more and view some spreads from the book after the break.
The question will be similar to one of these.
Why does Ruby visit Brickingdon?
How many seagulls does Titus count?
What disability does the main character have?
The competition will run until the 1st January 2018, allowing plenty of time for you to order your copy, and for it to arrive. This usually takes about two weeks. Please note: this is a 'Print On Demand' book, which means there is no stock. Each copy is printed for each customer, so you will need to order.
Available to order from Amazon or any large book shop.
Good luck!
View image at flickr
View image at flickr
View image at flickr
View image at flickr
View image at flickr
View image at flickr