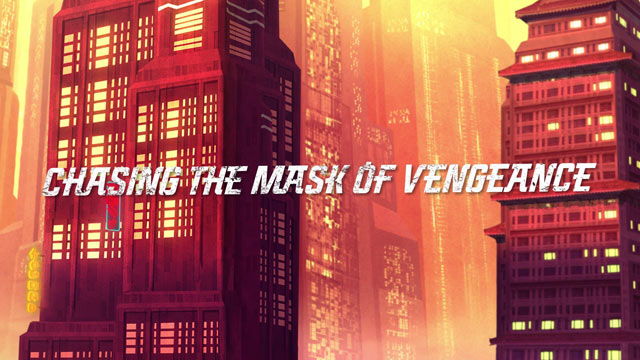 Continuing on from our previous article, here we go again for more details of the NINJAGO Sons Of Garmadon Brickfilm studio shoot.
I was incredibly lucky to be allowed back on set the next morning, and was able to lurk about without the worry of being on a timetable. This was a welcome relief after my plane delays yesterday. I was able grab more pictures of what was going on, and get some Q&A's with NINJAGO Designer Aske Garling and Animator Rasmus Nyhus. Read on to find out more.
The live shoot for the TVC was taking place today and there were bodies everywhere – a much more frantic pace than the previous day it seemed.
View image at flickr
As there was so much happening, I didn't think it was wise to interfere, so I headed to the adjacent studio where the stop motion was being shot. Things seemed much more mellow in this room, and I was really lucky to be able to chat with Rasmus, one of the animators. He was working on a scene set at the Sons Of Garmadon Headquarters – the one that had technical issues yesterday. Here's what he told me.
View image at flickr
How long have you been a stop motion animator?
I've been animating for about 11 years but I have been doing 2D stuff and 3D stuff, and stop motion whenever I get the opportunity.
So stop motion is more of a passion that you don't get to do so much?
Ah, you don't get much stop motion animation these days, but for the last two years I've been doing a bit more. It probably has a lot to do with studios such as Laika in the USA (The Box Trolls, Kubo) and you know Aardman of course. It's really (pushing) the level of quality – it's like Disney or Pixar – but they are doing it with stop motion.
They have developed the software we are using, and they are making it very simple to combine motor control with things, and lighting, and you can do everything from the software. It's quite easy – when stuff works!
You've been doing this for 11 years then, so what was the attraction? How did you get into it?
I always said that from school I wanted to be animator, though at that time I didn't really know what it took. I actually started out being a graphic designer, but I got really bored with that. I thought there'd be a lot more drawing in it, but I just ended up doing business cards and corporate designs so I moved on.
Is this the first time you've worked with LEGO?
It's the first time I've done a stop motion with LEGO, but I have done a lot of 3D with LEGO before.
Ah, I see, so would you say there's any particular challenges using LEGO compared to other stop motion projects you've worked on?
Oh yeah yeah – it's the scale of it. A normal stop motion puppet would be about this kind of size (he gestures around 12"). The movements (I can make here) are really really small and of course they are not that articulated. I have to move the head or a hand just a tiny bit this way or a tiny bit that way.
View image at flickr
View image at flickr
How many seconds of footage do you create on an average day?
For this project here? Hmm, let's see. Hmm, on a good day I probably do about 3 seconds.
Wow, a whole day for 3 seconds footage. That's a lot of commitment.
There could be 4 seconds (he smiles).
There was a bit of swearing going on in here yesterday – I think your colleague on the other table was having a few moments. This must be an incredibly frustrating profession. Why would you want to subject yourself to that day in day out?
Hmm, yes, that's a good question (he laughs and pauses for thought). Yes, well, it's to see the achievement at the end of the day. That gives a lot of satisfaction viewing the final result. Just to see dead things come to life – you put life into them.
Compared to when I'm working with 3D or drawing where you maybe do the first drawing, and then some of the drawings in the middle, and the final one, you can look at it and think, well that doesn't quite work. Then you can go over it again.
With the stop motion you can't do that. You start at the beginning and work to the end. And that really puts you... you... you've got to be focused you know? I can't put my mind to anything else, and I kind of like that.
View image at flickr
I saw the initial footage that has been captured so far and it looked very slick. I'm guessing that's why LEGO have asked for some behind the scenes coverage to prove that it has been done in this way – that these men, have sat in these dark rooms, for this length of time.
Ah, it's not that bad (he laughs). It's only 3 weeks production for the actual animation, but probably another 3 weeks for the post production. There's also all the pre-production and storyboarding of course though. It all adds up.
Thank you for speaking to Brickset. I'll let you get back to it.
---
On the other side of the room. Tobias was setting up the Katana VII on a rig. "It's not going to make you very good photographs as it's a green screen shot" he told me. "Getting the physics to look right is quite difficult on this one".
In this shot the boat enters from the corner of the frame and twists through 180 degrees while soaring towards a mask that is mid-air. I watched while he tinkered making very small but precise adjustments, flicking the frames back and forth until he was happy. The white line running up the screen has a set of calibration steps on it. In each frame the boat is moved along these steps, which helps to maintain a fluid movement when played back.
Given what had happened to Rasmus yesterday when the camera got knocked, I cringed a little every time Tobias moved his shoulders near the lens. The camera is mounted in quite close proximity to him and it looked like another accident waiting to happen to me. A hazard of the job I guess.View image at flickr
View image at flickr
Here's a still from the scene he was working on.
View image at flickr
I left Tobias to concentrate and headed back to the TVC studio. It looked like I could blend in without being under anyone's feet, so that's what I attempted to do.
---
The TVC
I had arrived while they were setting up close-ups of Lloyd in the Nightcrawler. This particular sequence was to show off the stud shooters, and I'd soon get a good idea of how much preparation went into getting a few seconds of the live action.
There's a separate storyboard for the live shoot and these scenes would eventually be cut in with some of the stop motion footage.
View image at flickr
View image at flickr
The shot presented its own set of challenges and there was a big team doing all-sorts.
View image at flickr
View image at flickr
You'd assume to capture motion that it's the subject that moves and the camera tracks along with it. In this instance however, the subject and camera would remain in a fixed position and it would be the set that moves.
This was particularly important for the shot in question as a hand model would be used to 'push' the vehicle and operate the firing mechanism, while the camera had to be maintained at a fixed distance from the car.
View image at flickr
View image at flickr
How do they achieve this? Simple - the whole tunnel section is built on a bed of rollers. When the filming starts, it's pushed manually at one end and the entire road moves. The hand model is holding the car firmly in position so the wheels on it turn, and at the appropriate moment, the mechanism to release the studs is operated. It's a bit snug in there – just see how close the hand model is from the camera and operator.
After a take, the road and tunnel section is rewound to the start and they just go again and again until the perfect take is achieved.
The footage is relayed to various monitors in the room, so everyone can get a good view without tripping over each other. The LEGO Creatives can examine and add their input. Here's Tobias, Senior Art Director, pondering one of the takes.
View image at flickr
Here's a still from the final take with studs mid flight.
View image at flickr
It only took a few attempts to get an impressive looking shot. There was no dithering about afterwards. As soon as it was decided that this was the one and had the thumbs up by the LEGO Creatives and Director, the guys who rig the camera setups started changing the lenses and moving things into position for the next shot. The minutes are ticking and a schedule has to be maintained as best as possible.
View image at flickr
Aske has to don his rubber gloves to keep fingerprints and muck off the models. When shooting such close ups, the slightest mark becomes obvious, and having an eye for detail is critical while placing them and framing up.
View image at flickr
View image at flickr
Looking at the car in isolation, you can see how effective the motion blur printed on the road and tunnel walls look even from this distance.
View image at flickr
Once the model is in place, the camera can be lined up to get the framing required and the whole process starts again for the next scene.
View image at flickr
View image at flickr
Here's the corresponding still from the final TVC
View image at flickr
Behind all this busyness, a new set was in the process of being lit for the forthcoming scenes. Never a dull moment for the builders and lighting technicians.
View image at flickr
A workbench at the back has all the models needed for the TVC. Each model has its own personal builder assigned to it and it's their responsibility to present it complete and correct before Aske gets his hands on them.
Aske was at the bench and it seemed like an opportune time to accost him whilst the next take was being set up. I made my move and he was only too happy to talk while he could. So, here we go:View image at flickr
View image at flickrhttps://www.flickr.com/photos/brickset/24886Aske was busy preparing the next model so I thought I'd try and get my second Q&A of the day. Fortunately he had a few moments before he was needed, so here we go.
View image at flickr
How did you first get the awesome job of working as a LEGO designer?
Um, ahh, (looks sheepish). Well I fell backwards into it really! I wasn't so good at high school and didn't get my education until quite late. I heard about this place called Integrated Design, which was a fairly new university thing where you get to play around with wood and stuff. My Grandad has his own woodwork shop in his basement and I played around in it as a kid. I'm lucky I still have all my fingers (laughs).
I figured I'd do that, as before, I'd already taken a year out as an animator – but I found that I could do the storyboards but not the drawings. So I started aiming for that education and while there I got some really awesome grades – I really started enjoying it.
One of my Seniors, a year ahead of me, got an internship at LEGO, and she was so good that they wanted to set up a whole team of five students. So they came back to the school looking for people.
Ah, so right place right time then?
Yes, she actually suggested me. Of course they did a small interview and all that, but I started there and then I got an internship. During my internship, I worked on the little hand held stud shooter. If you Google my name with stud shooter, you'll see the patent come up with my name on it (he smiles) – so that was quite a good incentive to keep me working there.
Then I started doing a Bachelor Thesis for my last year of school, and I managed to get in another department where they work on future concepts. After that I got a call to go to Constraction.
I was going to ask about that. You first worked on Bionicles didn't you?
Yes, my first job in Constraction was when we were finishing off Hero Factory – I can probably only take credit for putting one brick on one model (he chuckles). But then I was involved in the whole procedure of going into the Bionicle range.
And after that you moved straight into Ninjago?
No no. Actually the natural step was to move into Star Wars Constraction. So I worked on the first one and the spin off Rogue One. It's a funny job, as you get to meet this character... I worked a lot on Rey because I'd worked on Gali previously – so I got the two females. It's a challenge you know, building a female figure out of robot parts.
So I get to build this character, she only has a code name, and I have no idea what she is in the movie – but to build a character you need some personality. So I have to kind of invent a personality to go with it which means it's pretty weird when you actually see the movie.
After that I got moved over to Ninjago, because for Constraction we had designers for Star Wars and Constraction together and it got to the point where we didn't need so many people on it.
So your Ninjago was 2016 onwards then?
Err, yeah... (he pauses).. I'm really bad at years! I've been there around the one and a half years and I first worked on the movie stuff. The first model I did was 70614 Lightning Jet. It's funny as the Nightcrawler is 70641 and I keep mixing them up.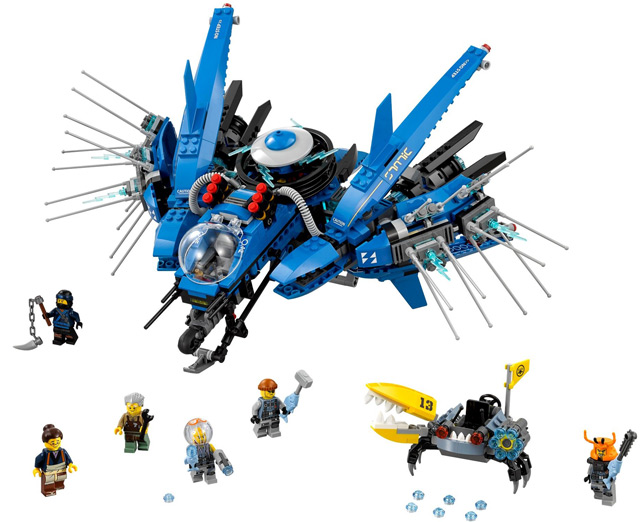 Out of the models that you have designed, what's your favourite, or the one you're most proud of? I know it's hard to name favourites as it's usually the last one you've worked on.
Ah, not necessarily, I mean I like this one (Nightcrawler) as it has such nice functions in it, but my personal favourite, though probably my worst model is 70792 Skull Slicer from Bionicle. It was the first model that I had full control over.
Why do you think that Ninjago has stood the test of time, whereas other themes have been and gone?
Ninjas are cool. It's so simple. Ninjas are always cool.
That's the exact type of quote I can live with! With the amount of Ninjago Movie sets out there, plus this new range coming out, do you find it difficult to keep coming up with new ideas and fresh builds?
You know it's funny, every time we launch a new product and are finished with it, we think this is way better than last years. Then you get to the point you think wait, what are we going to do next year? How's that ever going to be doable? But we've done it so many times now, and every time you get a little bit of a step up. We know it's a challenge, but we also have extreme confidence that it's going to happen.
I know you're juggling this Brickfilm whilst working on the next wave. Can we expect that to continue where this wave leaves off or will it go in another direction?
I couldn't tell you a thing (he laughs). That's way above my pay grade!
I thought so...! Thanks so much for talking to Brickset - it looks like you're being summoned again. I'll let you go.
---
The Making Of
There's yet another piece of this story that will appeal to those with an interest in stop motion. WilFilm were having a behind the scenes documentary made of the entire project. So while I was there as a stills reporter, I was able to capture the making of "The Making Of".
Documentary duties had fallen to film maker Kaan Arici, and back in the office I caught up with him briefly.
View image at flickr
"The whole idea was because it's stop motion animation and quite unique how they do it, we want to show how the whole setup works. We want to show that the entire 2 minute film is actually done this way and not as CGI – which makes it very interesting. Stop motion is one of those things that's kind of difficult and simple at the same time.
The 2 minute chase video will be available on YouTube, and this will be an accompanying video on YouTube as well. So for anyone who wants to learn more about about the process they can.
Compared to CGI, you don't need a big budget. In fact anyone can do it. All you need is some LEGO and a camera."
Kaan has some of his cameras placed on set constantly recording what goes on. This one is recording Tobias as a time lapse piece.
View image at flickr
He'll combine his own footage with cuts from the final stop motion film and interviews with some of the people involved. It should be a good watch, and will explore a lot more than I can here.
One thing Brickset have been given though is some of the concept storyboard art, and I can show you some of that here. Not all of it has made the final cut exactly, but the overall mood, feel and more importantly the story is very much all there. Here's a small selection.
View image at flickr
View image at flickr
View image at flickr
View image at flickr
This one shows how a scene has translated to the final stop motion sequence
View image at flickr
View image at flickr
If you get to watch the TVC, which I'm guessing will be aired alongside the NINJAGO TV series, I think you'll be impressed how well the stop motion and live action has been blended together.
I was able to watch the final cuts of both last week to get the stills for these articles, and it's been fascinating to see the end results – particularly the scenes that I saw in production. I'm looking forward to the documentary too – though I hope Kaan hasn't get any sneaky footage of me on it.
---
End titles
All good things must come to an end, as unfortunately I had a plane to catch. It'd been great seeing all the behind the scenes work at the studio and I can't really express how much enthusiasm and love the entire team have for what they're doing. I had to remind myself that they're lucky enough to do this for a living.
I hope you've enjoyed these articles as much as I have writing it all up. The Brickfilm "Chasing The Mask Of Vengeance" and the partner "Making Of" documentary will be online in January to coincide with the release of the new wave of products.
To wrap things up, I suppose all I can say now is "Be Fast! Be Fearless! Be Powerful! Be Heroic! Be Ninja!"
Sponsored content