The new DK book Ultimate LEGO Star Wars is the most comprehensive book on the subject ever published. It provides a wealth of information about LEGO sets and minifigures, and also about the vehicles, locations and characters on which they are based.
It was researched and written by subject matter experts and editors of The Brothers Brick, Andrew Becraft (pictured) and Chris Malloy, who have kindly agreed to answer a few questions about it.
Find out how they got involved, where they did their research, their favourite parts of the book and much more, after the break.
---
How did you get involved with the book?
Chris: DK approached Andrew and me based on the recommendation of Rod Gillies, one of TBB's editors, who has written a number of LEGO books for DK such as LEGO Star Wars: Build Your Own Adventure.
Andrew: They asked The Brothers Brick via our Facebook page if we knew anybody who'd be interested in working with them on a project, and as it so happens we did: The two of us!
---
What exactly was your involvement?
Chris: DK knew the basic project outline before they contact us, since the book pretty much includes every LEGO Star Wars set ever produced. They were able to work with the LEGO Star Wars team in Billund to pull the full product lists from the theme, but there were still some esoteric gaps that we helped fill in. For instance, LEGO had originally overlooked the 3866 Star Wars: The Battle of Hoth, since it's a game product, not part of the regular LEGO Star Wars theme. We also found a variety of special promos that were missing. We discussed with DK's editors if we wanted to include LEGO Star Wars bits that aren't strictly bricks, like keychains and pens, but ultimately decided to leave those out.
Andrew: During the course of the project, DK's design team would mock up pages for us with the set images surrounded with placeholder text to help us know approximately how much space we had on the page for each segment. Chris and I would divvy up the pages we wanted to work on (or had time to), and then we'd each write the main text for those spreads, as well as marking and writing all the special callouts for interesting features. Those actually took quite a bit of research, going back to old instruction booklets to identify interesting building techniques and all the play features – we didn't just write general descriptions over and over like "This is another A-wing redesign."
View image at flickr
---
What is your 'LEGO Star Wars background'?
Chris: I remember building some very crude versions of a TIE Fighter and X-Wing in the mid-nineties, before the Star Wars theme released. They were pretty rough and used blue and red canopies from the old Space Police theme. When LEGO Star Wars was announced, I was so excited I immediately pre-ordered 7140 X-wing Fighter, and soon picked up most of the rest of the first wave.
Andrew: I'm a bit older than Chris, but I'd really only just gotten back into Star Wars after Lucas released the Special Editions in 1997. But by 1999, two of my passions converged with the LEGO Star Wars theme, and I filled up a full cart – one of every set – at Toys R Us on the day they were released. I haven't bought every set since then, and I'll admit to a decade-long Star Wars "dark age" between the Prequel Trilogies and the release of Episode VII, but today I'm very glad to say I'm a huge fan again of both the movies and the LEGO sets.
View image at flickr
---
What information sources did you use/have at your disposal?
Chris: We did a lot of research with previous official Star Wars books, like the Incredible Cross-Sections books. After all, if you're going to point out the interesting way that a targeting sensor array is created, you have to be sure it's officially called a 'targeting sensor array' first. Additionally, we both did a lot of research with Wookiepedia for facets of Star Wars I was less familiar with, and then lots and lots of cross referencing on Bricklink and Brickset. Because my interests in LEGO go far beyond the Star Wars theme, I usually had a pretty good idea of where to begin research for calling out things like "this was the first set to include a blue brick", or other unusual parts or model designs, but being able to access the incredible part and set libraries was invaluable.
Andrew: Chris is definitely more of a parts monkey than I am, so I relied pretty heavily on Brickset and Bricklink to verify set inventories when I wanted to point out a particularly interesting part I thought was new in a Star Wars set, or to confirm that a printed element only appeared in that set. DK is a fantastic publisher of reference books, so I already had a library of their visual guides for Star Wars, and like Chris I relied heavily on those to ensure I used "in-universe" terms correctly. One of the most exciting things about working on an official Star Wars book for a major publisher was having access to Lucasfilm's style guide. It's obviously confidential, but that was also an important resource to ensure accuracy.
View image at flickr
---
Were any parts of the book particularly hard to research/write?
Andrew: Anything about the Clone Wars or non-canon LEGO sets like Freemaker Adventures… I just wasn't paying much attention to Star Wars as a whole between about 2003 and 2015, so there were gaps in my knowledge I had to fill. It forced me to watch Star Wars Rebels before I wrote all the pages about the Ghost and Phoenix Squadron, but it was time well spent because it turns out to be a fantastic show.
Chris: And it's a lot more difficult than you'd expect to write something interesting in 12-15 words for the short blurbs. Getting the precise, relatively short word counts needed to fit around the designs was a real challenge. Another aspect that was difficult were the pages filled with highly similar characters like Clone Troopers, Battle Droids, or astromech units. There's only so many ways to describe a Battle Droid when the only difference is a blue dot on the chest versus a yellow dot.
Andrew: Oh God, those pages about all the Rebel pilots! How many times can you use the word "orange" without sounding utterly repetitive? But in reality, there's a lot of variation in minifigs like that with their faces, helmet designs, and even torso prints. We definitely found something unique to say about everything!
View image at flickr
---
Do you have a favourite section, or one you're particularly happy with?
Chris: Unsurprisingly, the UCS models were really fun to write, because there's so many great things to talk about on them. A few of the models in the book were written months in advance of when they were publicly announced, so it was particularly cool to be writing about unannounced sets, though it made the research portion a bit more difficult.
Andrew: I used to be considered the "minifig guy," so it's probably no surprise that I really enjoyed writing spreads about Prequel Trilogy Jedi, minor Rebel characters, and so on. But I agree with Chris – it was cool writing about summer 2017 sets in late 2016, though we weren't able to do so with the sets actually in our hands.
View image at flickr
---
How did you split up the work between the two authors?
Chris: We got the work from DK in batches, as their designers prepped the pages with the visual assets. Usually we'd get around 10 full page spreads a week, and we'd divvy them up based on which of us thought we might have more interesting things to say about the models. For instance, I haven't seen all of Star Wars Rebels yet, but Andrew had just finished watching it, so naturally he took those sections. For any of the ones that neither of us were passionate about (Stormtroopers, prequel scenes) we'd just split them depending on who had time to properly research and write them.
Andrew: Yeah, time was definitely a factor in who ended up doing what. By the middle of the project we had a pretty solid workflow going between us and the DK team in London, with a cycle of layouts pending text, writing and research, updates to the layout based on our feedback, finishing with minor rewrites where we didn't add enough text or whatever.
View image at flickr
---
What's your favourite Star Wars set, and why?
Chris: I have a lot of nostalgia for my very first LEGO Star Wars set from 1999, the 7140 X-wing Fighter I mentioned previously. But objectively, it's not a great set, and newer designs are vastly superior. I don't buy into the common myths that LEGO is being adulterated with new elements. But despite this red herring of a reply, I'd have to say that my favorite set is 75060 Slave I. The Slave was a cool ship to begin with, and I love the fact that the UCS model is minifigure scale. The ship's curved design is incredibly difficult to capture in LEGO, and the designers really outdid themselves with this one. I built it for a review, intending to sort it out immediately, but after completing the model I couldn't bring myself to part it out. It's just too cool.
Andrew: I'm much less nostalgic about the first couple years of sets, since I think their designs were fairly awful, in hindsight. My favorite Star Wars set is probably also the UCS Slave I, for the reasons Chris described. But I also really enjoy the smaller sets like Luke's landspeeder, the Microfighters, and polybags – they're just a lot more accessible than a huge UCS set, and the micro sets especially will have a sense of whimsy and interesting design compromises to fit the scale that you don't have to do with a massive set like the UCS Falcon.
--
Thanks Chris and Andrew!
---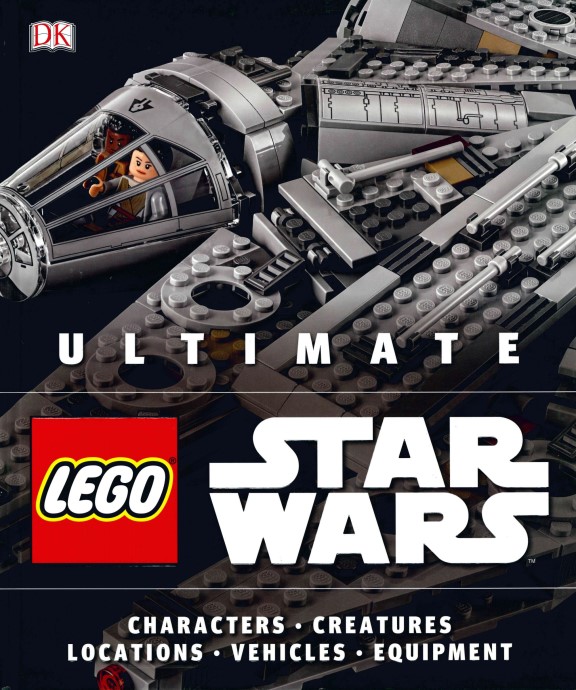 The book is available from Amazon.co.uk (£18.24) | Amazon.com ($24.95) | Amazon.ca ($36.79).
The UK version from Amazon comes in a slip case with two minifigure development art cards (Aayla Secura and a First Order Flametrooper). The north American one does not.
Photos of the magazine gift sets used in the book were provided by me :)
Sponsored content