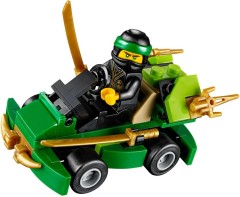 LEGO has updated its customer services site today with most of the January releases. It has published:
Unfortunately, as is often the case, the inventories are not complete and most of the new parts are missing, in particular the minifig parts. They will most likely be added in a few months. Our inventory list has a new column showing the percentage completeness of each one (when viewed on a full-width display). We'll be filling in the blanks later this week as we add piece counts to the database.
A couple of new polybags have been revealed among the new instructions: 30532 Ninjago Turbo and 30325 My First Dinosaur but unfortunately, because the latter is Duplo, the instruction sheet doesn't actually contain a picture of the set!