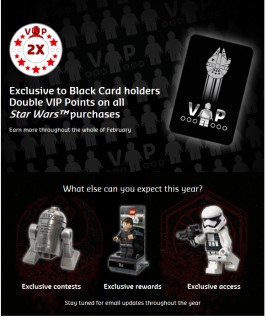 If you were lucky enough to secure a Falcon last year and you're in receipt of a black VIP card you'll now be able to enjoy some of the benefits.
You'll receive double points on all Star Wars purchases for the duration of February. This is valid both in store and online purchases. Note however that the VIP points will not show as x2 on the online product page, but they will be automatically multiplied when VIP points are applied to the specific VIP account.
In store purchasers are not required to use their VIP Black Card: the promotion mechanic is automatically applied to everyone who bought a Falcon during the qualifying period.
The image, which was mailed out to black VIP card holders, teases other benefits: Exclusive contests, rewards and access. No doubt more details will follow throughout the year!