75931 Dilophosaurus Outpost Attack sits in the middle of the price range of this year's Jurassic World sets and I believe in some markets it's exclusive to certain stores.
There doesn't look to be anything particularly novel or remarkable about it, so let's find out if it's worth tracking down...
---
Minifigures
Three minifigs are provided. There are no named characters -- they are simply guards and trackers -- and all three have identical torsos and legs that have cropped up in every other Jurassic World set we've reviewed. All the heads are a few years old, too. Decent enough figures, but not reason enough to buy the set.
View image at flickr
This one, however, re-uses a hair piece that's appeared only once before, in Dimensions 71251 B.A. Baracus.
View image at flickr
View image at flickr
The female has a double-sided head; the others don't.
View image at flickr
View image at flickr
---
Dinosaurs
This set is the only one in this series to include a dilophosaurus and, in common with all the dinos in these sets, it's excellent.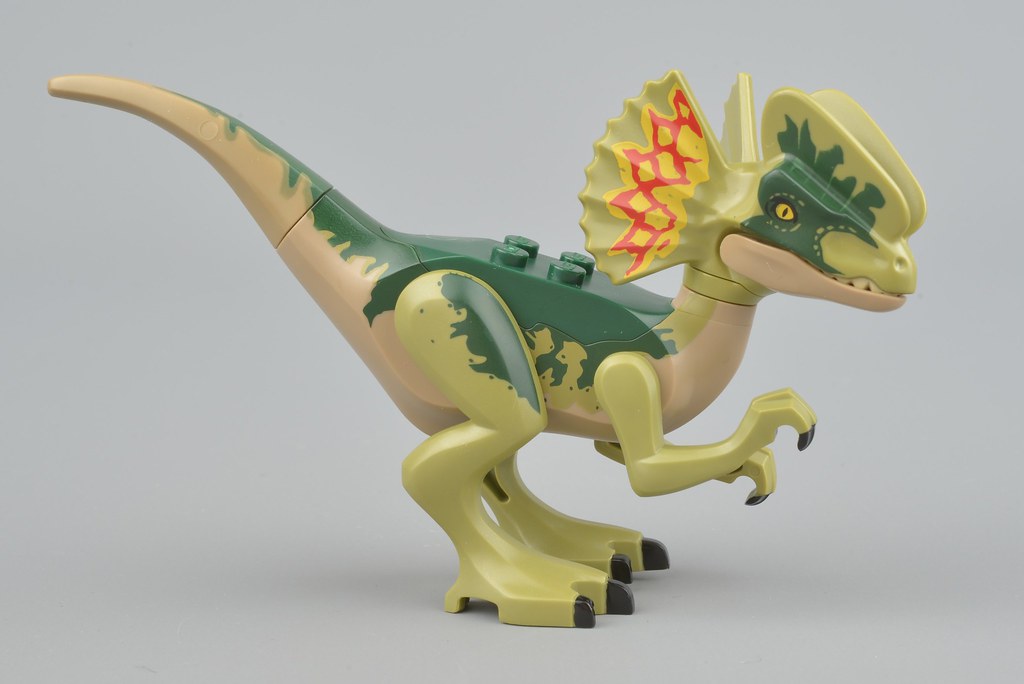 View image at flickr
View image at flickr
It's not new, though. It was first introduced in 75916 Dilophosaurus Ambush in 2015. However, the toned-down colours of this version look far more realistic than its lime green predecessor.
View image at flickr
The cute baby dino also makes an appearance and, unlike in 75933 T. Rex Transport where its inclusion felt a but superfluous, in this one it has a nice little crate to play, and be transported, in.
View image at flickr
---
Outpost
The outpost comprises three sections that are connected by clips to enable them to be angled slightly.
On the right, a watchtower with desk and computer screen underneath; in the middle, gates; and on the left, a section of fence with a 'feeding crane' in the middle.
A few pieces of foliage are provided which make it look suitably 'jungle-y'.
View image at flickr
The new 'Flex Tube, 21 Module, W/ 3.2 Hole', introduced last year, has enabled a very decent looking fence to be constructed, that actually looks fit for purpose.
The two gates are formed using two 4x6 lattice doors each, held together with a couple of jumper plates which isn't actually very satisfactory, or secure.
View image at flickr
There are two frangible play features: press the red cone on the back of the watchtower and the wall at the bottom pops out, and press on the Technic axles either side of the gate to remove them from their hinges. That's easier said than done, though, as it requires a lot of force to dislodge the gates from the clips.
View image at flickr
Cranes on top of walls or fences are a common feature in Jurassic World sets. This one appears to be to enable the baby dino to be placed into the enclosure.
View image at flickr
The watchtower can be manned to keep a lookout...
View image at flickr
...because it seems that rather than breaking out of the enclosure, the dilophosaurus breaks in, if the image on the front of the box is anything to go by.
View image at flickr
No doubt resulting in an inevitable casualty...
View image at flickr
---
Verdict
As suspected, there's nothing remarkable about this set and I sense that it was cobbled together late in the day to fit a particular price point and to be offered as a retailer exclusive. No new dinosaur and no new minifigs, or minifig components.
That said, there's nothing particularly wrong with it. Kids will find plenty to play with and the section of fence is the best I've encountered in a dinosaur set. If there were three or four more sections of it to enable a full 360 degree enclosure it would be perfect.
The price, however, is remarkable, remarkably high. Once again the exchange rate applied is totally askew with reality. It's £44.99, 49.99€ and $39.99, which thus makes the European prices the equivalent of about $62.
On that basis I can't really recommend it to anyone Europe until there's a decent discount to be had, particularly as there are better, and better value Jurassic World sets available.
Nice dinosaurs, shame about the price...
View image at flickr
---
Thanks to LEGO for providing this set for review, which is an expression of my own opinions.
Sponsored content