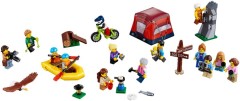 Another of this summer's CITY sets, the 164-piece 60202 People Pack - Outdoor Adventures, has been revealed by the LEGO Certified Store in Sarajevo.
The set features a wonderful array of brand new pieces, including an eagle, a more realistic life jacket, a baby carrier and a lime green mountain bike!
View a full size image on the set details page and share your opinion of it in the comments.