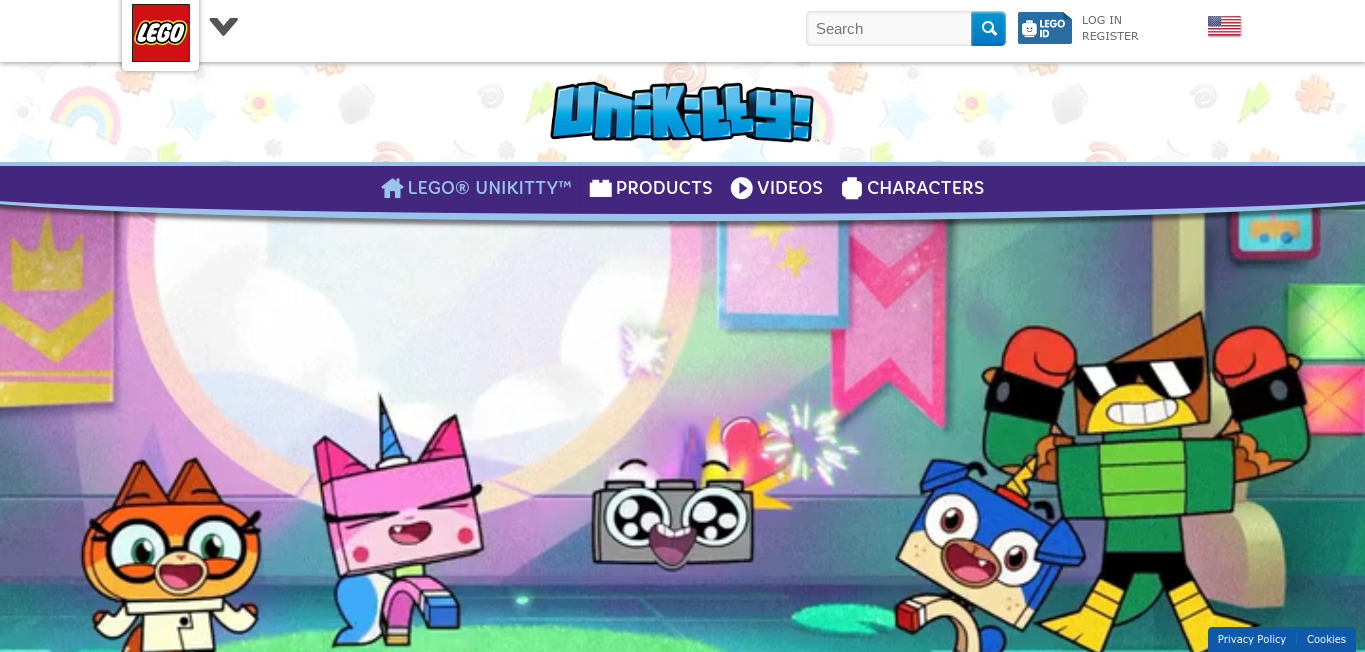 LEGO has begun to update the pages on its website to reflect the upcoming wave of Unikitty! sets to be released soon, with a colorful world to explore on the microsite.
This includes product descriptions, images, and more - a sampling of which you can discover after the break...
---
Characters
Unikitty

Unikitty is the energetic, bubbly, and bright princess of Unikingdom. She's a creative thinker and leads the charge when there's a problem in need of a solution. This half-cat-half-unicorn has emotions so strong that they can change her color or physical form, but one thing that will never change about Unikitty is her sweet personality and goofy sense of humor.
Puppycorn
Prince Puppycorn is Unikitty's high-energy little brother – with an attention span of 0.2 seconds. Although he acts tough and likes to join Unikitty on adventures, his bark is bigger than his bite, and this punky pup still has some growing to do.
Dr. Fox
Resident Unikingdom genius, Dr. Fox is a brainy and brilliant scientist working out of a hi-tech lab deep beneath the castle. Technically, Dr. Fox is Unikitty's closest voluntary valued colleague…otherwise known as 'best buds.' Although she is known for sometimes ignoring danger in the name of "mega science," Dr. Fox would sacrifice anything for her friends.
Hawkodile
The stone-cold, totally ripped, royal bodyguard to Unikitty is Hawkodile. This hardcore survivalist is all about fighting, punching, training for fighting, and one-liners, but deep, deeeep inside, he has a soft heart and maybe a tiny crush on Dr. Fox. Hawkodile is devoted to his bodyguard responsibilities but he also has many other skills – everything from bass guitar to flamenco dancing!
Richard
Richard is the super-boring, no-fun "adult" of the castle who tries to get Unikitty to always make responsible choices. He's like a living, floating encyclopedia filled with boring Unikingdom trivia, but he gives good advice (although Unikitty usually doesn't follow it). He has no sense of humor and doesn't like goofing off, but he's devoted to Unikitty and would never let her down.
Master Frown
Master Frown is a bad guy, but he's less focused on destroying Unikingdom and more dedicated to making sure Unikitty has a bad day! He's a petty, obnoxious Doom Lord – only happy when he's ruining someone's day. To spread his bad mood near and far, Master Frown has enlisted the unwilling help of his roommate Brock.
Brock
Brock is Master Frown's roommate, but he's too lazy and chill to be much of a bad guy. Brock would rather hang around the apartment playing video games than bothering Unikitty, but sometimes he'll tag along with Master Frown. He's easy-going and laid back; the only time he gets angry is when Master Frown forgets his chores.
---
Sets
41451 Unikitty Cloud Car
Float around with Unikitty in the LEGO Unikitty! 41451 Cloud Car, shooting sparkle matter from it as she goes! Spin the sunshine propeller and land in the park to meet her friends Feebee and Square Bear by the water fountain. Enjoy sharing Square Bear's cookies, then fly back up to the sky and enjoy the view on another joyous day in Unikingdom!
41452 Prince Puppycorn Trike
Speed through Unikingdom on the LEGO Unikitty! 41452 Prince Puppycorn Trike—driving fast is so much fun! Help his friends Dino Dude and Kick Flip try to keep up, as Prince Puppycorn shoots sparkle matter to spread happiness wherever he goes. Stop for a break and a delicious treat—Dino Dude has a crate of pizza, ice cream and a ball to play with. Then climb back on the tricycle and whizz off for more adventures!
41453 Party Time
It's LEGO Unikitty! 41453 Party Time in Unikingdom and our favorite friends are having the time of their lives! Storm the dancefloor with Unikitty and the gang while Prince Puppycorn spins some tunes in the DJ booth. But, oh no, who invited Master Frown? Unikitty's mission is clear. Help her make sure positivity wins the day and no-one spoils the party. Then wheel out the giant birthday cake for everyone to share—there's no party like a Unikitty party!
41454 Dr. Fox Laboratory
Create endless experiments with the LEGO Unikitty! 41454 Dr. Fox Laboratory, making sure there's always plenty of sparkle matter to go around! Stand Rick in the scanner and extract his sparkle matter to put back in the canisters. Examine Unikitty on the table and then lift her off using the robotic arms. Make sure Prince Puppycorn's horn is super shiny with the horn polisher, then help Dr. Fox and her robotic helper log all her findings on the board. And when sparkle dust is running at a low, shoot it out using the amazing shrinking ray gun!
41455 Unikingdom Creative Brick Box
Channel the fun and creativity of Unikitty to build an entire Unikingdom with the colorful LEGO Unikitty! 41455 Unikingdom Creative Brick Box. Follow the guides to build all your favorite characters from the Unikitty! TV series and you'll soon be creating all kinds of crazy figures of your own! Instructions are also included to create special places and scenes from around the kingdom, including Unikitty Castle, developing imagination as you go. With this special brick box, the options for building fun and happiness are endless!
41456 Unikingdom Fairground Fun
Enjoy a joyous day with Unikitty, Prince Puppycorn and friends with LEGO Unikitty! 41456 Unikingdom Fairground Fun! Scream if you want to go faster down the roller coaster, then turn the swinging chair ride to make them spin around. Buy souvenirs at the shop or head to the ice cream stand for refreshments. And don't forget to have a go on the dodgems too—everyone is having so much fun, they don't want the day to end!
---
What do you think of these sets? Will you be collecting them? Let us know in the comments below!
Sponsored content