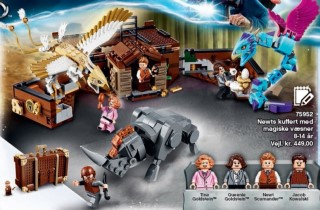 The Danish LEGO product catalogue for the second half of 2018 has been published and features a new image of 75952 Newt's Case of Magical Creatures, based upon Fantastic Beasts and Where to Find Them.
This set contains a model of Newt Scamander's suitcase along with Tina and Queenie Goldstein, Jacob Kowalski and Newt Scamander himself, the first two of whom are incorrectly labelled in the catalogue. A Thunderbird, an Erumpent, a Niffler and an Occamy are also included. The set is priced at 449,00 DKK so I expect it will cost around £49.99 or $49.99 in the UK and US.
News via The Brick Fan. Thanks to Master of Lightning for bringing it to our attention.
Are you looking forward to 75952 Newt's Case of Magical Creatures and the other Wizarding World sets? Let us know in the comments.