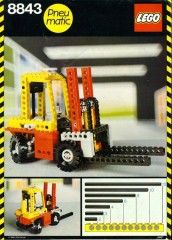 Among the four Technic sets released next week is a new fork-lift truck, a vehicle which has been a staple of the theme since its launch in 1977.
When I first heard there would be a new one this year my reaction was 'not another fork-lift!...' but after researching in the database it seems we are actually long overdue a new version because the last full-size one was released thirteen years ago, in 2005!
You would think that one fork-lift would be much the same as the next but what's particularly fascinating about them is the range of different methods that have been used to raise and lower the fork over the years.
Let's examine the six* models that have been released so far and take a quick look at this year's version, ahead of my full review next week.
---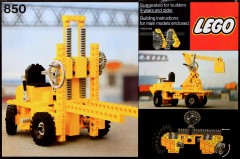 Fork-Lift Truck
850
850 Fork-Lift Truck was one of the first Technical sets (as they were called then) released in 1977. The introduction of a handful of new parts -- beams, gears and connectors -- suddenly made mechanically realistic and functional models a reality. No wonder my teenage self was blown away!
The fork is raised and lowered using a simple rack-and-pinion system. The forks are way too long, at 16 studs, but at the time only 2-, 4-, 8- and 16- length beams were available and I guess they felt 8 would be too short.
---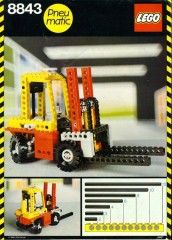 Fork-Lift Truck
8843
8843 Fork-Lift Truck, from 1984, was one of the first pneumatic sets. It uses a large pneumatic cylinder to raise and lower the fork, via a chain, which is pretty much exactly how many real-life ones work, albeit using hydraulics rather than pneumatics.
The first generation of LEGO pneumatic cylinders did not work particularly well because they had just one air inlet, at the bottom, which was used to both blow air in (raise the fork) and suck it out (lower it), which is less efficient than blowing into a top inlet. LEGO sorted this out with the second generation of cylinders released in the 1990s.
Nevertheless, this is a realistic looking model of a compact fork-lift of the sort you'd find operating in warehouses.
---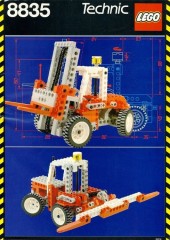 Forklift
8835
8835 Forklift was produced in 1989 and I believe introduced the specialist piece used for the fork blades.
Here, the fork is raised and lowered by way of a chain which is looped over gears at the top and bottom of the mast.
Like 8843, and all subsequent ones, the mast can be tilted backwards once the load has been collected to prevent it sliding off.
---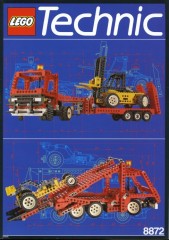 Forklift Transporter
8872
8872 Forklift Transporter, with 763 pieces, was the largest Technic set released in 1993. Each of the three sub-models -- truck, trailer and fork-lift -- were all very impressive at the time although the truck looks particularly crude to today's standards. The fork-lift, though, can still hold its own against more recent models.
The same chain-lift mechanism as that in 8835 is used to raise and lower the fork.
---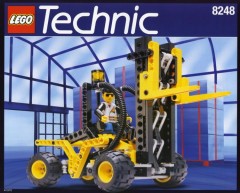 Forklift
8248
1998 was a period of transition between studded and studless construction. 8248 Forklift was the first to incorporate studless beams, but not exclusively.
The scissor-lift mechanism is totally unrealistic but quite interesting. It's operated by twisting the front mudguard!
It's one of the last Technic sets to include a maxi-fig, which are much lamented...
---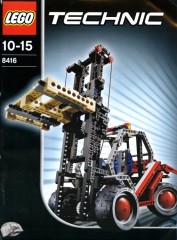 Fork-Lift
8416
2005's 8416 Fork-Lift, at 729 pieces, is the largest to be produced both in terms of number of pieces and size. It's a completely studless design that uses a rack-and-pinion mechanism to raise and lower the fork which works much like the boom extensions of crane arms (thanks chefkaspa), so the fork can raise to a height of double that of the mast.
This model is also notable for another, more mundane reason: it's the first to actually include a pallet. I'm not sure why it took so long for one to be provided because it adds vastly to the out-of-the-box play experience.
---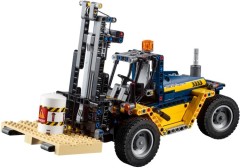 Forklift Truck
42079
This year's 42079 Forklift Truck is, of course, a fully studless model.
Like the first fork-lift from 1977 this one also uses a rack-and-pinion mechanism to raise and lower the fork but this time utilises the new rack and housing that were introduced in 2015 and first seen in 42043 Mercedes-Benz Arocs 3245 for its outriggers.
It looks great and there's a decent load for the fork so this should be the best LEGO fork-lift yet. Check back later next week for my review!
---
* For the purpose of this article I have excluded the mini fork lifts with less than 100 pieces, those that are alternative models, and those that featured in Universal sets but you can view them all here.