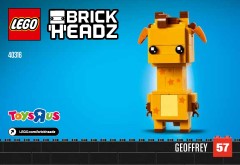 BrickHeadz have been produced for numerous different themes and Brickset member RonnyN has come across a particularly interesting example on LEGO's public server. 40316 Geoffrey is based upon the Toys R Us mascot and was presumably designed before the toy shop closed, in many countries, earlier this year.
It is possible that this set will be sold in the countries where Toys R Us endures, in which case we will let you know when it becomes available. For now, you can view instructions for the set here. It contains two unique printed bricks with stars on the side but should otherwise be quite easy to replicate.
Do you think this set will ever see the light of day or will it be the latest to join our list of sets that were never released? Let us know in the comments.