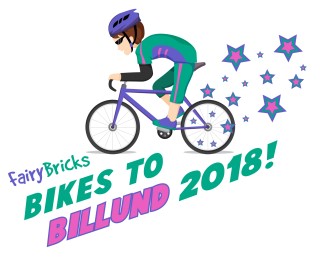 At the end of September I will be embarking on the longest cycle ride I've ever undertaken.
Myself and three others will be cycling almost 1000km (620 miles) from the flagship LEGO store in Leicester Square, London, to the LEGO House in Billund, Denmark, in seven-and-a-half days, to raise money for Fairy Bricks.
I have been training since since Christmas and, while I do do quite a lot of cycling, I've never ridden anywhere near this distance, or on consecutive days. So, it has proven to be quite a challenge. However, I think I'm ready for it now and I can't wait to get going.
I'm often asked if I would like donations for Brickset to help keep it online, but I never accept. It would mean far more to me if you sponsored me on this ride, to support Fairy Bricks. I'm sure that through the 'Brickset effect' we can eclipse any fundraising totals that the charity has had before. So, please, if you can, support my efforts!
If you are from the UK and would like to, please do so on the event's Fundraising page. This should also work if you are overseas, however if you do encounter any problems such as your card issuer blocking overseas transactions, you can donate via the charity's Paypal page.
You can read more about my fellow riders, the support team and our route, after the break. And, if you are in the UK, Netherlands, northern Germany or southern Jutland and would like to join us for a day's riding then do get in touch: we'd love your company!
---
We are a six strong cycling team, made up of four riders and two helpful (more likely hindering!) support staff. Peddling hard for Fairy Bricks will be Huw Millington, Ed Diment, James Pegrum and Ralph Doering. They will be ably assisted from the support van by Kev Gascoigne and Fly Tipping.

All six of the team hold Fairy Bricks very closely to their hearts. Huw allowed the first fundraising effort on his website Brickset back in 2013 when the name Fairy Bricks didn't even exist. Ed joined the Fairy Bricks Trustee Board in 2014 and has given a huge amount of time personally since and made the resources of his company, Bright Bricks available whenever possible. James and his LEGO Building friends Brick To The Past have constantly supported the charity by building incredible models to assist at Fairy Bricks events. Ralph continues to build inspirational LEGO mosaics, often building them live at Fairy Bricks events. Kev, aka the Hairy Fairy founded the charity in late 2013. Lastly, Fly has devoted countless hours in making LEGO donations directly to the hospitals Fairy Bricks visits.
The brave cycle team will be departing the LEGO Store in Leicester Square London at 08:30, Thursday September 20th. After eight gruelling days of riding they should arrive at The LEGO House in Billund, Denmark at 11:00 Thursday September 27th. The planned route is as follows:
We'll be departing the LEGO store in Leicester Square early in the morning on Thursday 20th September. From there we'll follow cycle paths out of the city into the Essex countryside as we head for the port of Harwich on the east coast of England. We have 140km to cover before the ferry sets sail for the Netherlands in the evening.
After crossing the North Sea we'll arrive in Hook of Holland, near Rotterdam, where we'll begin our journey through the Netherlands, Germany and Denmark. Today's 130km ride to Lelystad, just east of Amsterdam, should be fairly easy going as there won't be a hill in sight.
Day three's 120km ride should also be flat as we continue east through the Netherlands, to arrive in Emmen, near the German border.
Day four will be our longest and toughest. It'll start to get a bit hillier as we ride 165km across the border into Germany, to arrive in the industrial city of Bremen on the river Wester.
We'll continue across Germany on day five, arriving in Hamburg after a shorter 110km ride, hopefully in time to visit the LEGO brand store before it closes.
Our journey heads north on day six as we make our way towards the Danish border. There's still a long way to go, though so we'll be spending the night in Schleswig in northern Germany, after riding 140km.
On day seven, after about 40km riding in the morning we'll cross into Denmark, before travelling a further 80km to arrive in Rødding.
On the final day, we'll have a nice short flat ride of 50Km to Billund so we should arrive there mid-morning, just in time for the AFOL event at The LEGO House on the 27th September!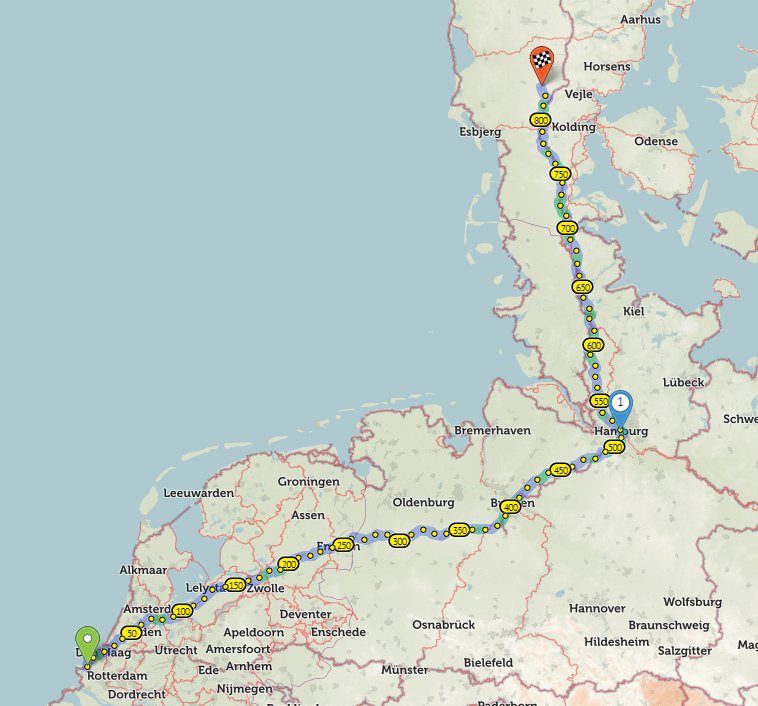 The route through continental Europe.

A total of 975 km in eight days! While supporting the incredible foursome along the route, Kev and Fly will also be sneaking away to make LEGO deliveries to hospitals on the route.

We would love to have people join us on the route so if you want to have a day with us, then please get in touch for our exact starting destinations.

We hope our effort and your sponsorship will enable Fairy Bricks to support more children, in more hospitals than ever before. Please make a donation on the event's fundraising page, or via Paypal if you have problems doing so.
Thank you -- your donation will mean the world to me, and of course will go directly towards getting our beloved bricks into the hands of sick children in hospitals and hospices around the world.
You may have noticed that we'll arrive in Billund just before the Skaerbaek fan weekend. That's no coincidence -- all six of us will be there, hopefully not limping or walking like we are still astride our saddles!
Sponsored content