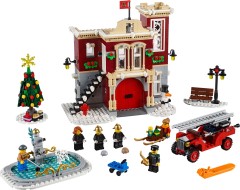 The latest addition to the Winter Village range is here!
10263 Winter Village Fire Station, 1166 pieces
US $99.99 - CA $129.99 - DE 89.99€ - FR 99.99€ - UK £84.99 - AU $149.99 - DK 799DKK
Available on the 1st of October, with VIP early access from the 13th of September.
Jump aboard the sleigh and head down to the snowy LEGO Creator Expert 10263 Winter Village Fire Station, where the holiday season is in full swing. Outside the holly-adorned building, the firefighters are busy filling the ice rink with water from their shiny fire truck while an ice hockey player looks on, and a street musician plays yuletide carols on his saxophone.
Build a cute snowman with a cool top hat and help decorate the Christmas tree. Place the gifts and toys below and climb the fire truck ladder to position the shimmering star on the top. Then head over to the fire station and take the stairs to the cosy kitchen. Switch on the light and enjoy a refreshing beverage in the company of the friendly Dalmatian, before you slide down the fire pole and head back to the square for more festive fun. Fire up your imagination with this delightful LEGO Creator Expert set.
You can view some additional images on the set details page.
---
What do you think of this set? Let us know in the comments.
Sponsored content