BrickHeadz continue to divide opinion among AFOLs but here at Brickset we love them so we were delighted when LEGO offered to send us some of the latest releases to review.
First, I'll take a look at 41626 Groot & Rocket, two characters who first appeared on screen in the Guardians of the Galaxy movies, but which here appear in their Avengers: Infinity War incarnations.
---
Rocket
Rocket is a raccoon so is smaller than the characters normally depicted as BrickHeadz. Therefore he's built using the new 3x3 core design rather than the usual 4x4.
I love his whiskers, which utilise a piece that has also been used for Wolverine's claws, and his cute nose. However, I'm not convinced at all by his ears which do not protrude above his head, as they should. They look particularly bad in the picture of the pair of them above.
Slopes are used to form the tufts of hair at the side of the face, which gives the mammal its distinctive appearance but, again, they are not entirely convincing.
View image at flickr
The animal's bushy tail protrudes from its rear, which is otherwise featureless.
View image at flickr
Although not without its faults, it's an acceptable and recognisable representation of Rocket.
---
Groot
Groot -- a sentient tree-like creature -- has outgrown his flower pot and is an adolescent in Infinity War, so is the same size as most BrickHeadz.
His dark tan bark-like skin is enhanced with the use of printed 1x4 bricks in two patterns, and 1x2 tiles, and I think it looks great.
View image at flickr
He holds a hand-held video game -- printed on a 1x2 transparent tile -- in his left hand.
View image at flickr
HIs body and head are asymmetrical, as you would expect a tree to be.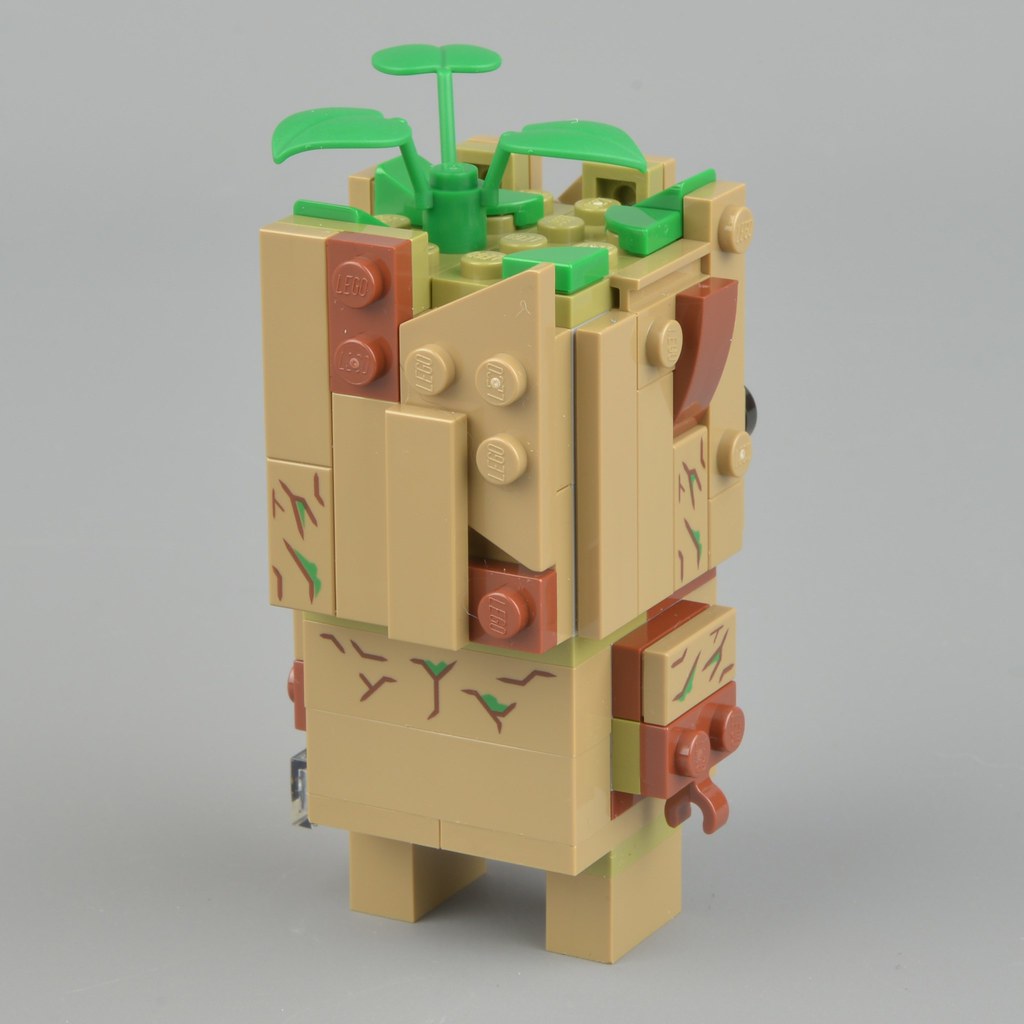 View image at flickr
Perhaps my favourite feature, though, is the green growth on his head, atop of olive green plates.
View image at flickr
---
Verdict
I think Groot is great, but Rocket, not so much. The ears are, frankly, pathetic. It looks more like he has some sort of hat on.
View image at flickr
That's disappointing, but I suspect it won't stop fans of these popular characters wanting to add them to their BrickHeadz collection.
---
Thanks to LEGO for providing the set for review. All opinions expressed in it are my own.