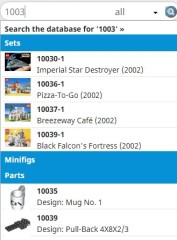 Last week I asked you to suggest ways in which we can improve Brickset. There has been some great responses so far and if you've not submitted your ideas yet there's still time to do so on this form.
One thing that many respondents wanted, including my good friend Bricks For Brains, was for search to be improved. So, I've done a few things which I believe have done so:
More results are shown in the drop-down suggestion list
The list now shows images and clearer set/minifig/part details
Dashes and so on are ignored, so searching for 'X-Wing' and 'X Wing' will all show the same results. However, misspellings, typos etc. are not yet dealt with.
The autocomplete drop-down list will start to show matches when you've entered three characters, at which point it'll show only the first 50. That's because It's possible that there are thousands of matches, and I want to avoid overloading things and burning your bandwidth downloading them all.
As you enter more characters and narrow the search, the maximum number of entries will increase, so you should find what you're looking for by scrolling down the list.
Anyway, give it a go and let me know what you think, whether you notice any problems, or whether you have suggestions for further improvement of the search function.
Sponsored content