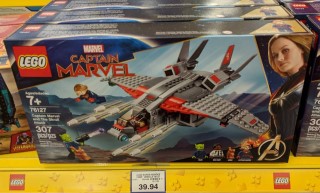 A previously unknown Marvel Super Heroes set, 76127 Captain Marvel and The Skrull Attack, has emerged in a Canadian branch of Toys R Us. This image was taken by Reddit user optiprimas.
The set contains an impressive Quinjet from the upcoming Captain Marvel movie alongside Talos, Nick Fury, Goose and Captain Marvel herself. Its Canadian price of $39.94 should equate to around £29.99, $29.99 or 34.99€, corresponding with 76100 Royal Talon Fighter Attack and 76104 The Hulkbuster Smash-Up.
News via Brick Fanatics.