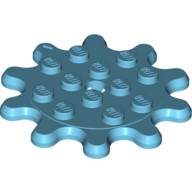 LEGO Customer Services has published Instructions and inventories for a number of 2019 sets already.
There are some 91 new parts among them, including some brand new design IDs, although some are new IDs for existing designs. The most interesting to me are two new gears, used in 41366 Olivia's Cupcake Cafe: Gear Wheel 2X2, Z6 (35442) and Gear Wheel 4X4, Z10 (35443). I wonder what use they'll be for GBCs?
The turntable part that I mentioned in the Corner Garage review is also listed, as Turntable 2X2, Female, design ID 27448.