Following on from last week's riveting article about Technic pins I thought I'd tackle axles this week. There's a lot of them so I'll do so in two parts: normal axles in this article and modified ones in part two.
I don't think that they are as exciting as pins but nevertheless it's interesting to look at their evolution and the exotic colours they were produced in during LEGO's 'wild west' years of the 2000s.
---
3705: Cross Axle 4M (1970 - )
The first four axle lengths were introduced in 800 Gears. Motor and Bricks, in a 'milky white' which is presumably the colour of the undyed polycarbonate.
This was changed to black for the first Technic sets of 1977. It first appeared in red in a few sets in the 2000s before red was adopted as a standard colour for this length of axle in 2016.
It's also been produced in green, first for 8479 Barcode Multi-Set in 1997, white, brown, in 3451 Sopwith Camel, and both shades of light grey. The rarest colour would appear to be old light grey which appeared only in 4726 Quidditch Practice. It was last produced in an exotic colour in 2006.
---
3706: Cross Axle 6M (1970 - )
The standard colour for the 6l axle has been black since 1977 but like the 4l, it's now also available in red, although red examples are not as prevalent as black.
Red first appeared in 1999 in a couple of Technic sets. Two white ones were used in 8009 R2-D2 in 2002, tan in 7468 Saturn V Moon Mission, for the lunar lander's legs, and light grey in a few sets in 2001-2002, which was before that colour became the standard for odd length axles.
---
3707: Cross Axle 8M (1970 - )
Again, the standard colour for the 8 length axle is black but like the 4 and the 6 LEGO decided that red would also become a standard colour for it in 2016
It's also been produced in white, first in 1996s 8480 Space Shuttle, dark grey in Znap set 3582 Super Constructor Set, brown in 3451 Sopwith Camel and light grey in a couple of 2002 sets.
---
3708: Cross Axle 12M (1970 - )
There's a risk that this article is becoming boring already...
Like the three above, this too was primarily produced in black until 2016 when red became an alternative standard colour.
Vying for the title of rarest axle ever is the green variant, of which one appeared in 8479 Barcode Multi-Set, although there are a good number available in BrickLink. It's also cropped up in white in a few sets, most recently in 10244 Fairground Mixer and 7191 X-wing Fighter has four in light grey.
---
3704: Cross Axle 2M (1977 - )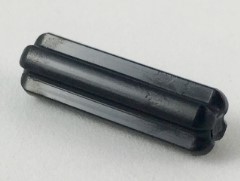 The 2 length axle was introduced with the first Technical Sets in 1977 and has only ever been made in black.
This early version, without grooves, was phased out in 1996 due to it being difficult to remove from some parts as it's almost impossible to get a grip on it.
---
3737: Cross Axle 10M (1977 - )
Completing the lineup of even length axles is the 10, also introduced with the first Technical sets in 1977.
The first red examples appeared in 8653 Enzo Ferrari 1:10 in 2005 before red became an alternative standard colour in 2016, as it is for all even length axles.
Seven green ones can be found in 8479 Barcode Multi-Set.
---
4519: Cross Axle 3M (1983 - )
The 3 length axle was initially produced in black before light grey became the standard colour for odd-numbered axles in 2003.
The first yellow ones appeared in 2015, in 21303 WALL-E, before the colour became more widespread the year after.
A few red ones cropped up in four sets in the 2000s, before that colour was a standard for even lengths, and the Znap set 3552 Hover Sub contained one in white.
---
? : 10M Cross Axle, Threaded (1984 - 1990)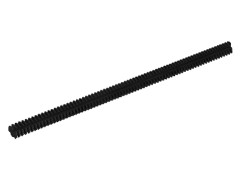 This threaded axle first appeared in 8851 Excavator in 1984, and was used to hold the body onto the chassis which used a normal System turntable to provide rotation. A pair of threaded nuts at each end prevented the body from becoming detached from the chassis in play.
This method, and these parts, became redundant when Technic turntables were produced.
---
? : 4M Cross Axle, Threaded (1986 -1990)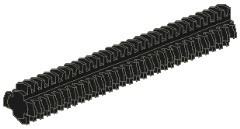 A shorter version was also made and, with the exception of service packs and Dacta sets, appeared in just one regular set: 8094 Control Centre, in 1990 where it's used to clamp a pen into some of the models.
---
32073: Cross Axle 5M (1997 - )
The 5 length axle, like the 4 and 6, was originally produced in black which meant telling them apart in a pile was difficult. From 2002 it was produced in light grey and from 2016, in yellow.
7194 Yoda has a single white one, where it's used as part of the whites in his eyes.
---
32062: 2M Cross Axle W. Groove (1996 - )
The old version of 2l axle was replaced in 1996 with this one with grooves which provide some purchase to make it easier to remove.
It's produced in both black and red, and white examples appeared in a small number of sets in the 2000s.
---
44294: Cross Axle 7M (2003 - )
It seems that LEGO was not in a hurry to introduce longer odd-length axles. Presumably there was a specific need for a 7l one in a 2003 set, although it was used in about 20 of them.
It was originally produced in light grey, and then yellow from 2016. There's a brown one in 4195 Queen Anne's Revenge, and red and black in 8653 Enzo Ferrari 1:10.
---
50450: 32 M Axle Ø 4.75 W. Cross (2004 - )
I believe that this, and the 16l axle below, are made from a different material to the shorter axles. They are slightly more flexible and therefore less easy to bend and break.
It was originally produced for a number of sports sets, such as 3578 NHL Championship Challenge in 2004, where it was used as a control stick for the players.
Yellow ones have been used for Fireman's poles in 7240 Fire Station and 60004 Fire Station.
---
50451: 16M Axle Ø 4.75 W. Cross (2004 - )
This one was also first used in 2004's Ice Hockey set 3578 NHL Championship Challenge. White and black ones continue to crop up but they are not common
---
60485: Cross Axle 9M (2009 - )
As I said, LEGO was in no hurry to release long off length axles: the 9l surfaced 6 years after the 7l and it would be 7 more years before the 11l was produced.
This has only ever been produced in light grey and, from 2016, yellow.
---
23948: Cross Axle, 11 Module (2016 - )
46 years after the introduction of the first Technic axles, every length from 2 to 12 is finally available in 2016. I suspect a specific need in one of the 2HY 2016 sets, probably 42055 Bucket Wheel Excavator, led to its introduction.
Again, it's produced only in light grey and yellow.
---
So, there you have it. As I said, axles are not quite as exciting as pins (!) but it was fun to research them anyway.
Have you been keeping track of which axles have been produced in what colours? If I have done so correctly it's as follows:
Green: 4, 10, 12
Brown: 4, 7, 8
White: 2, 3, 4, 5, 6, 8, 12, 16, 32
Red: 3, 4, 6, 7, 8, 10, 12
Tan: 6
Yellow: 3, 5, 7, 9, 11, 32
Black: 2, 3, 4, 5, 6, 7, 8, 10, 12, 16, 32
Light grey: 3, 4, 5, 6, 7, 8, 9, 11, 12
Dark grey: 8
The current standard colours are shown in bold.
Finally, I'll leave you with this image that LEGO posted on social media a while ago. There does not seem to be a standard for which even lengths are red and which ones are black. Red is becoming more prevalent but black seems to be used when it suits the model.
The same is true for odd lengths: there seems to be more yellow than light grey ones in current sets but, again, grey ones of all lengths continue to crop up.
I suspect, however, that we won't see exotic coloured axles produced again...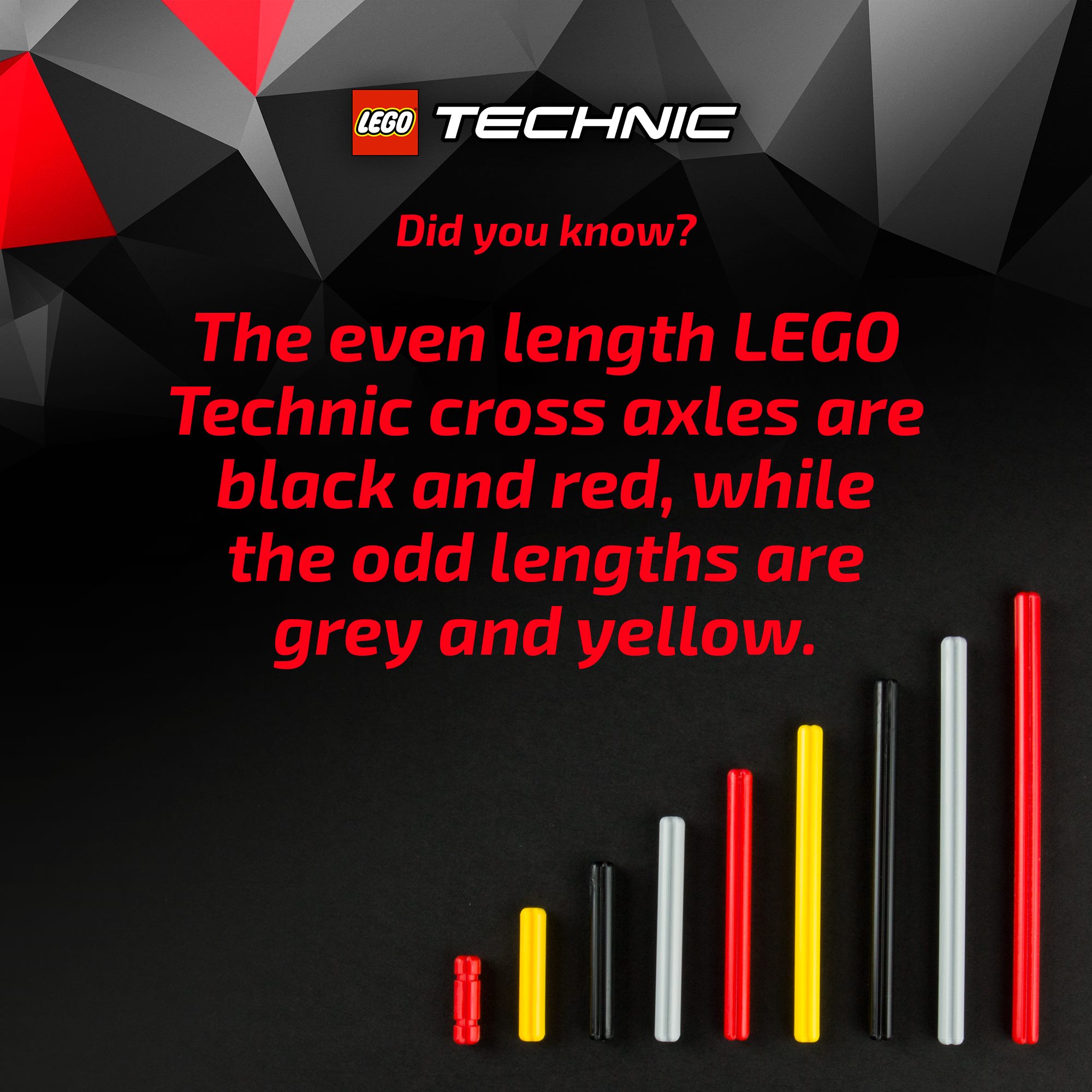 ---
Let me know if you found this interesting by liking the article or commenting. I'll write part 2 if there's demand.