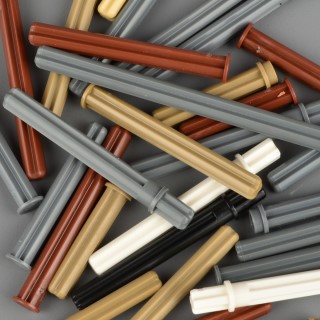 Following on from part one of this article, today I turn my attention to axles that have been modified in one way or another, the first of which appeared in 1995 to solve a specific problem.
I suspect you're getting bored with Technic parts histories now but that's the only area in which I have any expertise. So, if you fancy writing the next article on a family of System elements, do get in touch and we'll be delighted to publish it.
---
6587: 3M Cross Axle With Knob (1995 - )
Until this part was produced pulling a wheel from a Technic model usually resulted in the axle coming away with it and the bush holding it in place falling out.
This axle solved this, because it can't be removed from a beam or other part when pulling on it from the axle end.
Originally it was produced in dark grey before being replaced by dark tan in 2010. 8009 R2-D2 has a pair in white and interestingly, white ones cropped up again in last year's 10712 Bricks and Gears. Presumably dark tan was considered too drab for use in that colourful set.
---
32209: 5,5 Double Cross Axle (1998 - )
Znap, LEGO's answer to K-Nex, was generally considered to be absolute rubbish but it did introduce a couple of useful new parts: this axle and the flexible one below.
There was probably a reason why it needed to be 5.5 units long, and it could be that because it is, it remained in the parts palette and is still in use today.
It was originally white in Znap sets and black in others, just so it could get lost among all your black other axles. Nowadays its usually dark grey although white ones crop up from time to time.
---
? : 26M Flexible Axle (1998)
While building GBCs recently I've found this part to be exceedingly useful for transferring rotation to hard-to-reach places in my modules.
It appeared in just two motorised Znap sets so consequently it's rare nowadays and commands a relatively high price at BrickLink.
---
55013: Friction Element, Cross Axle (2006 - )
I didn't realise until now that this axle was first introduced in Bionicle sets, in 2006 and was used in conjunction with 53586, Friction Element, Cylinder, and 53585 Friction Element, Ball Ø 10.2 which explains why it is named as it is. The end stop was needed to prevent the ball from coming off the end.
Originally black, but dark grey became the standard in 2007 when it was used more widely as a general purpose axle with the same advantage as 6587 3M Cross Axle With Knob, above.
---
87083: Cross Axle 4M With End Stop (2010 - )
Clearly the advantages of having an end stop are manifold because three more axle lengths have been introduced subsequently, starting with a 4l one in 2010.
It has only ever been produced in dark grey.
---
99008: Krydsaksel M/Stop 4M (2012 - )
I believe this tan axle, whose name has not been translated from Danish to English in LEGO's database, was first produced specifically for use in 9398 4x4 Crawler.
The smooth section in the middle reduces friction when threaded through a beam which must have been seen as a problem when using normal axles.
---
15462: Cross Axle 5M With End Stop (2014 - )
The 5l beam with end stop started life in dark tan but from 2017 has been exclusively brown.
---
24316: Cross Axle 3M W/End Stop (2016 - )
This, the latest axle to appear, has always been brown and a I suspect a specific requirement in one of 2016's Technic sets, probably 42055 Bucket Wheel Excavator, led to its manufacture.
---
LEGO has produced a comprehensive selection of axles that have evolved from the plain simple ones to those that solve one problem or another. Of course we can't be sure what, if any, new designs will appear in the future but if I had to hazard a guess I suspect we'll see more lengths of those with end stops. Personally, I always seem to find I need a 6 length one, so maybe that'll be next.
I hope you enjoyed this article. As I said at the start, if you'd like to contribute a parts history article do get in touch!