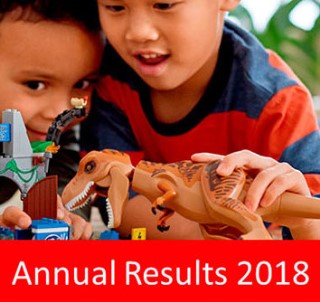 The LEGO Group has returned to growth in 2018. Here are the headlines from the press release:
In 2018, the LEGO Group bucked toy industry trends to increase its market share in all major markets. Revenue grew 4 percent to DKK 36.4 billion; operating profit grew 4 percent.
2018 Performance Highlights:
Global consumer sales grew 3 percent in 2018 compared with 2017.
Revenue for the full year grew 4 percent to DKK 36.4 billion. In constant currency, revenue grew 7 percent compared with 2017.
Operating profit grew 4 percent to DKK 10.8 billion. Net profit was DKK 8.1 billion, an increase of 3.5 percent.
Cash flow from operating activities remained strong at DKK 9.8 billion.
Market share grew in all major markets, bucking overall industry trends.
Read on for more interesting facts, including best selling themes.
The top performing themes in 2018 were, in no particular order:
Technic
Ninjago
City
Friends
Star Wars
Harry Potter, Jurassic World, Classic and Creator are also said to have performed strongly.
In 2019, the company is accelerating expansion in China, and is set to to open 80 brand stores in 18 cities across the country, which will bring the total to over 140 in 30 cities. It will also expand its presence in the middle east and India. No word on openings in Europe.
We'll add to this article during the day.