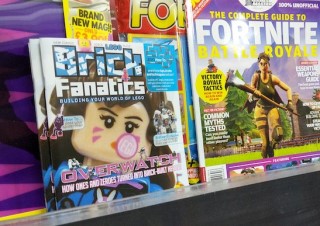 You can now pick up a copy of Brick Fanatics Magazine in selected branches of WH Smiths in the UK.
The A5-size, 80-page print publication all about LEGO will also be available in Barnes and Noble stores across the USA next week.
Issue 3 leads with a fascinating insight into the collaboration between the LEGO Group and video game developers Blizzard for the creation of the LEGO Overwatch theme.
This issue also debuts the How To section of the magazine, which is packed with LEGO tips, tricks and techniques. More information on what's inside Issue 3 can be found here.
Due to scheduling, Issue 3 will only be available in UK stores for a short time, before Issue 4 is stocked in its place from April 4. US on-sale dates beyond Issue 3 will follow shortly.
From Issue 4, each edition of Brick Fanatics Magazine will be stocked on UK and US shelves for one month.
Brick Fanatics Magazine will also remain available for purchase at brickfanatics.com/magazine, as will 12-issue and 24-issue subscription deals that offer free postage, free issues and delivery of each issue before it appears in stores.