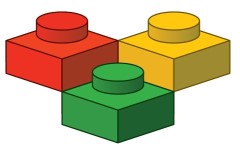 You might wonder what criteria we use to decide which LEGO-related items we include in our set database given we don't add everything with a LEGO logo on it.
We have a set of rules that we apply to determine if items are eligible and I thought it would be worth documenting them again, because the last time I did so was in 2011.
Part of the reason for doing so now is because there's debate in the comments of the BrickLink AFOL Designer program sets article about whether or not they should be added.
So, these are our rules:
In scope:
The following list details the items that we include in the database without question. When we add items we assign them a category that defines what type of item they are. You can view the categories we use, and hide those you are not interested in if you're logged in, in your profile.
Brick-based products with 1- ,2-, 3-, 4- or 5- digit numeric set numbers
Regular retail sets, promotional sets, anything with a set number on the box that contains mostly LEGO bricks. This is LEGO's core product range to which we assign the category 'Normal' and we aim to have a 100% complete list of items in this category

Brick-based products with 6- or 7-digit set numbers
Sometimes referred to as the 'extended product range', e.g. promotional minifigure polybags, items made to be sold in exclusively at shop.LEGO.com and in brand stores and so on. We assign these the category 'Extended' and we aim to have a 100% complete list of items in this category.

Brick based products packaged in sealed containers that are not assigned a numeric set number by LEGO
For example, ComicCon exclusives, magazine/comic cover gifts, brand store minifig packs. We categorise these as 'Other' and aim to have a comprehensive list of them.

Brick-based products that are not packaged in sealed containers
For example, in-store builds, promotional sets in zip-lock bags sold at LEGOLAND and so on. We also categorise these as 'Other' and add them on request.

Products that contain bricks that are produced under license
Other than books, there aren't too many of these, but the Muji sets come to mind. We categorise these as 'Other' and add them when we are informed of them.

Non-building products that are sold at shop.LEGO.com
Including key-chains, magnets, plush, role-play toys, bags, watches etc. We categorise them as 'Gear'. We do not put any priority on maintaining a complete list of such items; they are added only when they appear in LEGO's affiliate product feed.

Books published in-house and under license that are of interest to AFOLs
Primarily those published by Dorling Kindersley.

Unofficial books about LEGO that are of interest to AFOLs
For example, those published by No Starch Press, books authored by AFOLs and so on.
---
Out of scope:
These items will not normally be included in the database:
Non-brick based products that are not sold at shop.LEGO.com
Because there are so many and there is no way to maintain comprehensive lists we do not include items manufactured under license that have a LEGO logo on them unless they are sold at shop.LEGO.com.

Games produced under license, regardless of whether they contain bricks or not
Such as the RoseArt games from the 1990s.

Unofficial LEGO brick-based products that do not have a LEGO logo on the packaging
Kits produced by LEGO Certified Professionals, custom kits etc.

Children's story, activity and comic books, whether published under license or not
e.g. Scholastic story books and DK sticker books.

Books published in languages other than English

Compilation books/digests
e.g. those published by DK that merely republish content that has appeared in earlier books.

Clone brands
Obviously!
However, there will be exceptions when we choose to add items that would otherwise be out of scope. For example, Scholastic books that come with an exclusive and distinctive minifgure, or interesting items sold in brand stores but not online, e.g. LEGO House exclusive key chains.
---
So, if we abide by these rules the BrickLink sets are definitely out of scope.
However, because they are sanctioned by LEGO and the company has been directly involved in bringing them to market, I will be adding them. Also, there is a lot of interest in them here and I feel it's the right thing to do as a courtesy to the BrickLink community and the sets' designers.
LCP kits will remain out of scope and I will not entertain requests to add them. They differ primarily to the BrickLink sets in that they are not sanctioned by LEGO and the company has had no involvement other than supplying LCPs with the bricks.
I am not exactly sure which theme / subtheme I will assign to them but it's likely to be Miscellaneous / BrickLink AFOL Designer Programme, and they will be placed in the 'Other' Category. I welcome your input on this.