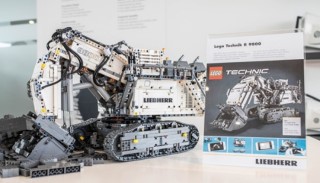 42100 Liebherr R 9800 was probably among the most exciting new sets that emerged from the Nuremberg Toy Fair a couple of months ago. Bouwsteentjes has now uncovered a slightly clearer image of the set, showing its exterior in more detail.
This model will be released on the 1st of August and includes CONTROL+, a system which should enable several functions to be executed concurrently! It reportedly costs €449.99 in Germany, probably equating to around £399.99 or $449.99 given the price of 42083 Bugatti Chiron.
Are you looking forward to 42100 Liebherr R 9800? Let us know in the comments.