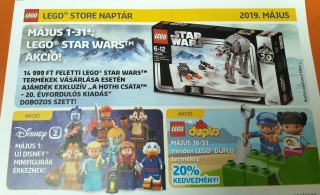 The latest May the Fourth promotion has been revealed on a LEGO store calendar in Hungary! 40333 Battle of Hoth - 20th Anniversary Edition includes a microscale Imperial AT-AT along with two Snowspeeders and the shield generator.
This set is packaged in a twentieth anniversary box but does not come with an exclusive minifigure. We do not have any precise information about the May the Fourth promotion or its duration at the moment. However, the Hungarian store calendar, available at the LEGO Certified Store in Budapest, reads as follows:
1st - 31st of May
LEGO Star Wars
Action!
Exclusive gift with LEGO Star Wars purchases over 14,999 forints "Battle of Hoth - 20th Anniversary Edition" boxed set.
---
It seems fairly unlikely that 40333 Battle of Hoth - 20th Anniversary Edition will be available throughout the entire month in the majority of stores. HUF 14,999 equates to around £40.53 or $52.72 which might provide some guidance regarding what purchases will qualify for the gift, although that will probably be inconsistent around the world.
We will publish any further information about the 2019 May the Fourth promotions when it becomes available.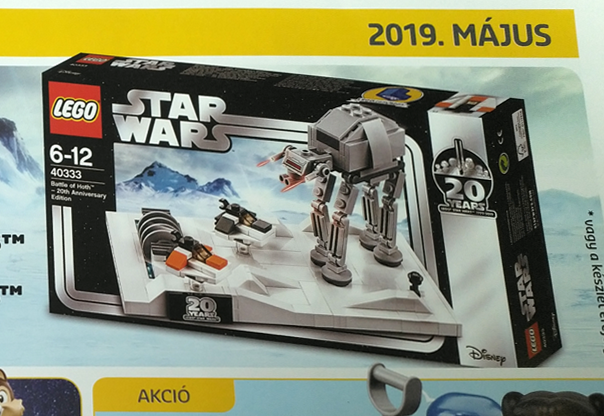 I think this model looks impressive, although Hoth and Star Wars Episode V: The Empire Strikes Back have little specific relation to the twentieth anniversary or 75244 Tantive IV. Furthermore, it might have been fun to name this set 'Assault on Hoth - 20th Anniversary Edition' as a reference to the general unpopularity of that set among LEGO Star Wars fans.
---
Are you satisfied with this promotional set? Let us known in the comments.
Thanks to stlux for this image.