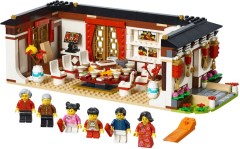 LEGO has just release this statement. It's great news:
It has become apparent to us at the LEGO Group that you are dissatisfied with the recent launches of regional exclusive products. We've received a lot of feedback on the LEGO festival products to mark the Chinese New Year (80101 Chinese New Year's Eve Dinner and 80102 Dragon Dance), the LEGO The Movie 2 Brickheadz (41634 Emmet, 41635 Wyldstyle,n 41636 Benny & 41637 Sweet Mayhem) in the US as well as 75227 Darth Vader Bust.
Because of this feedback and concerns from you, our dedicated and most loyal fans, we have decided that regional exclusives launched after May 1, 2019 will become widely available via LEGO Brand Retail stores and LEGO Shop at Home after a limited period of time (3-6 months) of the initial launch.
In the following areas we will still be launching products, which will have a certain limitation to availability and production runs:
Pilot projects, such as Forma, to check out markets and opportunities without being able to make them widely available.
Gift With Purchase campaigns through LEGO Shop at Home and LEGO Brand Retail.
Products only sold in certain experiences (for example LEGOLAND, LEGO House & LEGO Brand Retail stores).
Special Event Sets (Comic Cons, LEGO Inside Tour).